Peony White Wings
Peony 'White Wings' is an Early Midseason Japanese type White Peony Lactiflora, white large flowers, lightly fragrant, dark green glossy foliage, strong bush, (Hoogendoorn, The Netherlands, 1949)
Bare root size: 3/5 eye
32"
| Size | Weight |
| --- | --- |
| 1/2 eye | 50 gram |
| 3/5 eye | 250 gram |
Quantity per standard box:
Perennial Box Size (standard) = 24" x 16" x 9" or, 60cm x 40cm x 23cm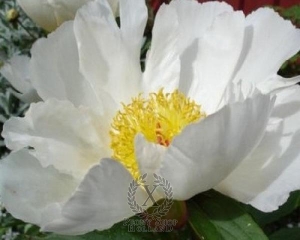 ---
Size (eye)
1+
3+
1/2

€

2.00

€

1.00
3/5

€

7.00

€

4.00
---
Please
login
to place orders and see Peony prices for all quantities.
Peony 'White Wings' is one of the many Japanese type white Peonies that we grow at Peony Nursery 'Peony Shop Holland'.
About Peony Nursery "Peonyshop.com" Peony Shop Holland
Peony Growers Peonyshop.com in these days solely targets on increasing unique, great prime quality peonies. This specific aim wasn't always the scenario. This particular organization comes with an exceptional background starting in the year 1875 with Simon Scholten that has been growing fresh fruit for a full time income.
In the year 2001 this specific firm manufactured their new marketing-name & logo design "Peonyshop.com" and after that they began focusing on increasing exclusive peonies. In the year 2002 the corporation launched their very own world wide web peonyshop together with Peonies & Buxus. Throughout the year 2003 Joshua Scholten started with raising peonies. Than in year 2004 this firm began to foreign trade peonies of the Netherlands all over European countries, Usa and additionally Asian countries.
Right now our own peony nursery is specialized in growing and spreading exclusive, high-quality peony roots which can be distributed and exported to world wide. Aside from that we even reduce peonies predominantly assisting the Dutch peony flower marketplace.
The main things we pride:
The high-quality of our product
The potential to export international
All of our extensive collection peonies like White Wings
The peony crame of substantial full potential seedlings
About growing White Wings peonies
The fall is really a suitable moment regarding seeding peonies. Pretty much all peonies are generally exceptionally long-term-lived plants functioning for nearly 50 up to 70 yrs, so shortly after an individual get them planted in the correct manner, you will definitely enjoy them for years and years. Peonies have a preference for the shiny location with a well-drained ground. A good air circulation presented around the the peony plant can also be required. All these environs assist peonies stay away from illness problems. To prepare a sowing hole for a bareroot peony plant, dig the ground into a level of 12-18". Utilize garden tools to loosen the edges of the particular seeding hole at the same time. It's always pretty critical that the particular "eyes, ", or growing nodes, positioned near the bottom of the old stem, end up no greater than 2 inches beneath the soil area.