Peony Embraceable Pink
Peony 'Embraceable Pink' is a Midseason Japanese pink with cream Peony Herbaceous Lactiflora, large blooms, stylish, Cora-Stubbs-like coloring, two rows of guard petals and a well behaved center petal tuft, fragrant, good substance, 3-4 buds per stem, no pollen or seeds, average height 26 inch / 66 cm, (Roy G. Klehm, USA, 1999).
Bare root size: 3/5 eye
26"
| Size | Weight |
| --- | --- |
| 3/5 eye | 250 gram |
Quantity per standard box:
Perennial Box Size (standard) = 24" x 16" x 9" or, 60cm x 40cm x 23cm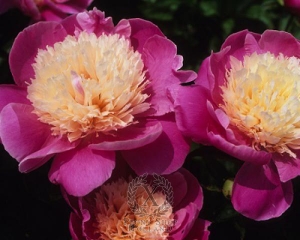 Sold Out! Available in years: 2024, 2026
Peony 'Embraceable Pink' is one of the many multi-color Pink Peonies that we grow at Peony Shop Holland.
Regarding Peony Nursery "Peonyshop.com" Peony Shop Holland, Lutjebroek, the Netherlands
Peony Growers Peony Shop Holland peonyshop.com in these days specifically targets at getting unique, exceptional high-quality peonies. This hasn't been always the main case. The company has an extensive back ground getting started in the year 1875 along with Simon Scholten that had been growing fruit for her income.
During 2001 this business organisation put together their very own innovative marketing-label & brand "Peonyshop.com" and they started centering on growing exceptional peonies. Within the year 2002 the particular organization launched their very own on-line peonyshop with Peonies & Buxus. In the year 2003 Joshua Scholten started with multiplying peonies. Than in 2004 this institution began to foreign trade peonies from the Netherlands all around European countries, America and Asian countries.
Nowadays our peony nursery is specialized in maximizing and developing exclusive, high-quality peony roots that are distributed and exported to world-wide. Additionally this firm additionally cut peonies mainly supporting the Dutch peony flower marketplace.
The things we pride:
The good quality of our product
The ability to foreign trade around the globe
Our wide-ranging range of pink peonies like Embraceable Pink
The peony nursery stock of high potential pink peonies for cut-flower production
About growing Embraceable Pink a Japanese pink peony flower.
The fall has been a suitable period regarding planting a peony plant. Pretty much all peony plants happen to be extremely long-lived plants staying around up to 50 to a max of 70 years, so shortly after you have the particular peonies placed rightly, a person will certainly enjoy the peonies for a long time. Peonies opt for the sunny spot together with a well-drained soil. A good air movement available the the peony plant can also be essential. All of these milieu assist these plants to stay away from sickness issues. To organize the planting hole designed for a bareroot peony plant, dig the soil into a depth around 12-18inches. Make use of garden tools to loosen the sides of the particular seeding hole at the same time. It is extremely important and vital that the "eyes", or growing nodes, positioned near the base of the old stem, end up no greater than Two " below the ground area.