Weed, Fungus and Stress Control in Peonies
In this newsletter we discuss some current affairs in the field of peonies.
Weed Control
There are some changes in the field of weeds. Here is an overview of the most important products that are used in peonies around this period.
New product: Oblix 500 SC
Is a soil herbicide based on ethofumesate with a systemic action via the underground parts of the weeds. Has a contact effect on weeds in the germ layer. A moist soil promotes the effect. Oblix controls a broad spectrum of annual weeds. Approved as a bottom top treatment (hood sprayer) with a dosage of 0.6 l / ha. The agent may be applied twice a year.
The loss of Lentagran makes this a nice addition to the package.
Gallant 2000 – end of admission
Gallant 2000 is going to lose its authorization. The period you can still purchase it (delivery term) is June 30, 2021. The final use period is August 31, 2021. Keep this in mind if you still want to use the product. Gallant is used against grasses, including annual meadow grass. Dosage is 1 l / ha.
Lentagran – end of authorization (in floristry crops)
At the end of September, the CTGB completed the re-registration of Lentagran WP. Some crops have disappeared from the label, including floristry crops. This means that we can apply Lentagran in the peony for the last time this season. Delivery term for Lentagran WP for floristry crops, among other things, is April 2, 2021. The use-up period is September 2, 2021.
If you still want to use Lentagran this season, you must purchase it before April 2.
Goltix WG / Bettix SC
Both products are based on metamitron and have both soil and contact effect. Goltix WG is granulate and Bettix SC is liquid. Has an effect on ground herb, shepherd's purse and chamomile, among other things.
Goltix Queen
Goltix Queen is a combination of a known active ingredient; metamitron and a new post-emergence substance; quinmerac. As a result, the effect compared to metamitron alone is stronger on, among others; goosefoot (melde), cleavers, peach herb and dog parsley. Goltix Queen provides an after-effect against weed seedlings and also a synergistic effect with other post-emergence herbicides.
Corzal SE
Corzal SE is a foliar herbicide without soil action. The agent controls annual broadleaf weeds. Preferably apply to very young weeds (germ leaf stage). Less sensitive weeds include chamomile, cleavers, pig grass, peach grass, water pepper, and rapeseed storage plants. Grasses and root weeds are not controlled. In peonies, this medicine is almost always used in combination with medicines containing metamitron.
Vivendi 100
Contains the same active ingredient as Lontrel. The product is a systemic foliar herbicide with some residual effect via the soil and has a strong effect on present thistles, butterbur, clover, bud herb, many-buds (including peach herb, pig grass) and an effect on composites and black nightshade. During certain circumstances, peonies can be sensitive and crop reaction can occur.
Advice
We compile advice in consultation with you on the basis of the weed pressure and type, time and soil type.
Basic advice for a bottom application could be a combination of the following 3 resources;
0.5 – 1.5 kg / l / ha Goltix WG or Bettix SC or Goltix Queen
0.5 – 1.5 l / ha Corzal SE
1.0 – 2.0 l / ha Oil
For all remedies with a soil action, a moist soil contributes to the success of the (longitudinal) action.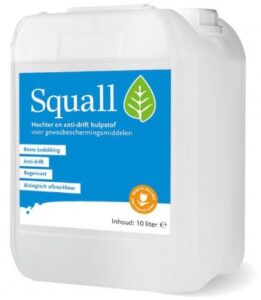 Squall
Squall has proven itself in recent years in peony cultivation, among other things. New is that Squall is allowed as a Drift Reducing Technique when injected. With a 90% cap it is then possible to spray agents that have a 95% drift reduction requirement, which does not always require a pressure registration. Squall also gives a better coverage due to the strong adhesion and improved flow. Two birds with one stone!
Mold Control
Below some products that have been changed:
AlibiFlora
This agent is 100% identical to AmistarTop. The label of AmistarTop has changed and may therefore no longer be used in peonies. Alibi Flora is available from around mid-April in 1 and 5 liter packaging. Has a good effect on botrytis and leaf spot disease. Label dosage: maximum 2 applications per year of 0.9 l / ha with a minimum interval of 7 days.
Palladium
This agent is 100% identical to Switch. Palladium is available in 5 kilo packaging. Palladium has a price-technical advantage.
Mancozeb containing agents
This year is the last year that you can still use mancozeb containing products. These include; Mastana SC, Penncozeb SC, Dithane DG and Tridex DG.
The definitive date of the sale and use up period has yet to be determined by the CTGB.
Stress and fungal control agents can be combined well in most cases. For a tailor-made schedule; contact your cultivation specialist.
Previsan
A successful way to remove the sticky sweet excretion of a peony or honeydew and thus prevent sooty mold.
In the cultivation of peonies, among other things, the flowers can under certain circumstances secrete a sticky sweet substance (resin) and sooty mold (fungus) can develop on this. In addition, aphids deposit honeydew, which can also result in sooty mold. Usually irrigation is done to prevent this. If this is not possible due to circumstances, Previsan can be an aid.
The experiences are good. In addition to preventing the sooty mold, fluffing is also a lot faster. For more information, read the product information sheet
Stress Management
The resilience of various crops, including peonies, can be increased by using StressImmune and AminoBoost.
StressImmune is a combination product of seaweed extract and amino acids. This combination gives the plant more resistance to biotic stress (heat, drought, frost, etc.). There are now many good experiences in various crops. The dosage is 1-1.5 l / ha with an interval of 10 to 14 days. If severe stress is expected (heat, frost), 2.5 liters / ha can be applied a few days before this period.
After a stress period, the plant can be supported with 2.5 l / ha AminoBoost.
This product contains many amino acids, among other things. Because the plant produces it less or more difficult due to stress, you can support the plant with it. As a result, the plant continues to grow better.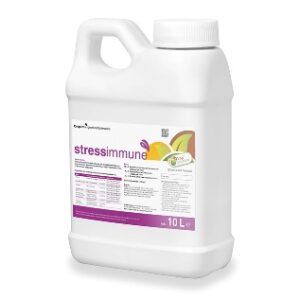 StressImmune
StressImmune can be widely used against stress. A preventive use activates the plant immune system so that diseases and pests are more strongly repelled and the vitality of a plant increases.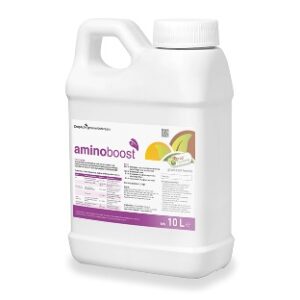 AminoBoost
The amino acids in Aminoboost accelerate the recovery of the plant after a stress period. By treating the crop in time for the ripening period, growth can be extended.