Peony Cora Stubs
Peony 'Cora Stubs' is a Midseason Japanese Pink Peony Herbaceous Lactiflora, sassy raspberry pink Japanese form with large vanilla ice cream scoop center, fragrant, vigorous plant habit and lush foliage, average height 32 inch / 81 cm, one of the best! (William H. Krekler, Feb. 18, 1985, on his 85th Birthday!).
Bare root size: 3/5 eye
32"
| Size | Weight |
| --- | --- |
| 3/5 eye | 250 gram |
Quantity per standard box:
Perennial Box Size (standard) = 24" x 16" x 9" or, 60cm x 40cm x 23cm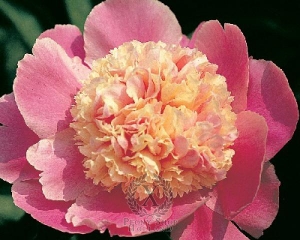 Sold Out! Available in years: 2023
Peony 'Cora Stubs' is one of the many pink Peonies that we grow at Peony Nursery 'Peony Shop Holland'. Peony 'Cora Stubs' is Paeonia Lactiflora breed by William H Krekler, Somerville, Ohio and Whit-tier, Peony breeder William H Krekler [1900-2002] started breeding Peonies with the purchase of Peony seedlings. He registered his first Peony in 1955 and he grew 1300 Peony varieties until 1977. He sold his entire Peony plantation to Peony Nursery 'Charles Klehm and Son Nursery'. Krekler's peonies were the result of human intervention.
About Peony Grower Peony Shop Holland "Peonyshop.com"
Peony nursery Peonyshop.com Peony Shop Holland nowadays specifically focuses on building exceptional, good top quality peonies. This was not always the main scenario. This corporation has an wide-ranging back ground starting in the year 1875 with the help of Simon Scholten who also was basically growing veggies and fruit for money.
During 2001 this company built their modern marketing and advertising tactics-label & brand "Peonyshop.com" and as a result they started off focusing on increasing unique peonies. Throughout the year 2002 this business opened up their online peonyshop together with Peonies & Buxus. Throughout the year 2003 Joshua Scholten started off on with raising peonies. After that in year 2004 this organization started to export peonies of the Netherlands all around Europe, Usa and also Asia.
Currently our own peony nursery is focused on expanding and developing unique, high-quality peony roots which have been bought and exported to internationally. In addition the particular company even reduce peonies largely serving the Dutch peony flower industry.
The main things we pride:
The high-quality of our own products
Our capacity to export across the globe
The best extensive assortment of pink peonies like Cora Stubs
Our nursery stock of large full potential pink peonies for cut-flower production and or for in the garden.
About growing Cora Stubs a pink peony flower
The fall has been the correct period if you think about planting peonies. These peonies happen to be exceptionally long-lived plants staying alive close to fifty to a maximum of seventy yrs, so once you'll have them selected and planted correctly, a person will benefit from the plants for many, many years. The plants opt for the bright area having a well-drained ground. A good air flow circulation available the plant is also significant. These special environs allow peonies avoid sickness issues. To organize a sowing hole designed for a bare-root peony plant, dig the soil to some depth of 12-18". Work with garden tools to remove the edges of the seeding hole at the same time. It can be really essential that the particular "eyes", or growing nodes, positioned close to the bottom of the old stem, end up no greater than Two " below the ground area.