Peony Princess Bride
Peony Princess Brice is a Late Midseason double White Peony Herbaceous Lactiflora, pure white with large, rounded and cupped guard petals that hold a looser but pure white center ball of petals, Lush, dark green foliage, fragrant, set seeds, excellent cut-flower, (Roy G. Klehm, USA, 1988).
Bare root size: 3/5 eye
32"
| Size | Weight |
| --- | --- |
| 3/5 eye | 250 gram |
Quantity per standard box:
Perennial Box Size (standard) = 24" x 16" x 9" or, 60cm x 40cm x 23cm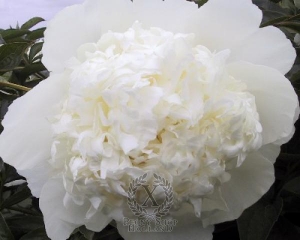 ---
Size (eye)
1+
3+
3/5

€

17.00

€

14.00
---
Please
login
to place orders and see Peony prices for all quantities.
Peony Princess Bride is a double white Peony that is ready for cut-flower before Sarah Bernhardt and is one of the many double White Peonies that we grow at Peony Nursery 'Peony Shop Holland'.
Regarding Peony growers "Peonyshop.com" Peony Shop Holland
Peony nursery Peonyshop.com at this time only targets on improving unique, extraordinary best quality peonies. It has not always been this way. This firm carries a wealthy history starting in 1875 with Simon Scholten that has been growing fruit for living.
In the year 2001 this company manufactured their own brand-new selling-title & logo "Peonyshop.com" and they began putting attention on improving exceptional peonies. Throughout 2002 the particular corporation opened their world wide web peonyshop together with Peonies & Buxus. Throughout the year 2003 Joshua Scholten started off on with multiplying peonies. After that in 2004 the organization began to market peonies originating from the Netherlands all over Europe, America plus Asian countries.
Currently our peony nursery is specialised in maximizing and increasing the number of exceptional, good quality peony roots which have been bought and released around the globe. In addition the particular firm even reduce peonies mainly serving the Dutch peony flower sector.
The things we pride:
The high-quality of our product
Our capability to export all over the globe
Our wide-ranging collection peonies like Princess Bride
The peony crame of high full potential seedling peonies
About Princess Bride a peony
Fall has considered to be the right time regarding growing peonies. Nearly all peony plants are unbelievably long-lived plants long lasting up to fifty to a maximum of 70 years, so shortly after you have the peonies placed rightly, you will get pleasure from them for many, many years. The plants prefer the shiny area together with a well-drained ground. A good air flow movement available the peonie is also crucial. These milieu allow these plants to stay away from sickness issues. To arrange the seeding hole meant for a bareroot peony plant, dig the ground to the depth around 12-18inch. Make use of garden tools to remove the sides of the seeding hole at the same time. It is actually very critical that the particular "eyes, ", or growing nodes, situated nearby the base of the old stem, end up no more than 2 " under the ground surface.