Peony Sword Dance
Peony 'Sword Dance' is a Late Midseason Japanese bright Red Peony Lactiflora, bright red petals surround an unusual arrangement of yellow staminodes streaked with red, normal grower, (Auten, USA, 1933).
Bare root size: 3/5 eye
34"
| Size | Weight |
| --- | --- |
| 3/5 eye | 250 gram |
Quantity per standard box:
Perennial Box Size (standard) = 24" x 16" x 9" or, 60cm x 40cm x 23cm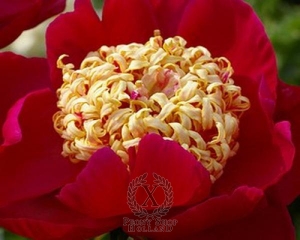 Sold Out! Available in years: 2023
Peony 'Sword Dance' is one of the many bright Red Peonies that we grow at Peony Nursery 'Peony Shop Holland'.
Who was Edward Auten Jr.?
Mr. Edward Auten Jr. was born in 1881, at Princeville, Illinois, USA. He graduated from Harvard University in 1904. Mr. Edward Auten Jr. planted his first peonies in 1910 and began experimenting with seedlings in 1916. He has received for his originations an Honorable Mention from the American Peony Society, the Midwest Peony and Iris Society, and a special prize offered by the Brand Peony Farms for a seedling of the Japanese type. Mr. Edward Auten Jr. was a member of the American Peony Society's special committee investigating Japanese and Single types.
About peony farm "Peonyshop.com"
Peony Farm Peony Shop Holland at this point only centers at getting exclusive, good leading peonies. It hasn't always been this situation. This specific company owns a rich background getting started in the year 1875 accompanied by Simon Scholten who was growing fresh vegetables for her income.
During the year 2001 this corporation made up their own modern marketing-title & logo design "Peonyshop.com" and as a result they started putting attention on increasing unique peonies. In the year 2002 this company launched their shop on the internet", the: peonyshop together with Peonies & Buxus. During the year 2003 Joshua Scholten started out with raising peonies. Than in 2004 this business started to foreign trade peonies of the Netherlands all-around Europe, Usa and also Asian countries.
Currently our peony nursery is focused on maximizing and developing exceptional, high quality peony roots which have been bought and released around the globe. Aside from that the particular organization additionally reduce peonies primarily serving the Dutch peony flower industry.
The things we pride:
The high-quality of our product
Our ability to foreign trade around the world
Our wide-ranging collection peonies like Sword Dance
Our crame of substantial full potential seedlings
About growing Sword Dance peonies
Fall is actually the best moment regarding planting a peony. Pretty much all peony plants are usually unbelievably long-lived plants long lasting close to 50 to seventy yrs, so right after you'll have them planted in a correct manner, a person is going to benefit from the plants for a long time. Peonies have a preference for a sun-drenched location together with a well-drained soil. A good air flow circulation available around the the peony plant can also be mandatory. These kinds of milieu help peonies prevent illness issues. To arrange the planting hole designed for a bareroot peony, dig the soil to some level of 12-18inch. Work with garden tools to release the sides of the particular planting hole at the same time. It's always really important and vital that the particular "eyes, ", or growth nodes, located nearby the bottom of the old stem, end up no more than Two " below the soil surface.