Peony Monsieur Jules Elie
Peony 'Monsieur Jules Elie' is a Midseason bomb-type double Pink Peony Herbaceous Lactiflora, light lavender pink, fragrant, light green foliage, may need support, average height 36 inch / 91.5 cm. (Crousse, France, 1888).
Bare root size: 3/5 eye
36"
| Size | Weight |
| --- | --- |
| 3/5 eye | 250 gram |
Quantity per standard box:
Perennial Box Size (standard) = 24" x 16" x 9" or, 60cm x 40cm x 23cm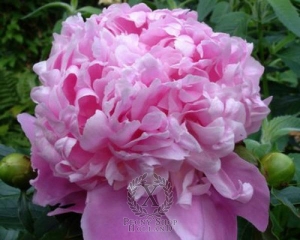 Sold Out! Available in years: 2023
Peony 'Monsieur Jules Elie' is one of the many double Pink Peonies that we grow at Peony Nursery 'Peony Shop Holland'.
About Peony Nursery "Peonyshop.com" Peony Shop Holland
Peony farm Peony Shop Holland Peonyshop.com nowadays specifically targets at improving unique, extraordinary high-quality peonies. This has not been always the scenario. This corporation carries an unique background opening in the year 1875 along with Simon Scholten who also has been growing fruit and vegetables for a full time income.
During the year 2001 this specific company constructed their own modern selling-name & logo design "Peonyshop.com" and they began concentrating on improving exceptional peonies. Within the year 2002 this corporation opened their shop on the web", the: peonyshop.com together with Peonies & Buxus. During 2003 Joshua Scholten began with breeding peonies. Then in year 2004 this firm began to sell peonies of the Netherlands all around Europe, America and additionally Asian countries.
Right now our own peony nursery is specialized in maximizing and developing unique, high quality peony roots that are bought and exported to throughout the world. Aside from that we also cut peonies primarily serving the Dutch peony flower marketplace.
The most important things we pride:
The superior quality of our own products
Our ability to export international
Our new wide-ranging collection of double pink peonies like Monsieur Jules Elie
Our Peony Nursery of large potential double pink Peonies for cut-flower production.
About Monsieur Jules Elie a double pink Peony flower
The fall is undoubtedly the perfect moment for seeding a peony plant. Almost all peonies are extremely long-lived plants long lasting approximately fifty up to 70 years, so soon after you'll get the peonies placed rightly, an individual will definitely have fun with the plants for many, many years. Peonies like some sort of sunny area having a well-drained dirt. A good air circulation presented around the peonies is required. These kinds of environments allow these plants to avoid illness problems. To arrange the sowing hole meant for a bare-root peony, dig the dirt into a level of 12-18inch. Make use of a garden fork to loosen the edges of the seeding hole at the same time. It is actually especially crucial that the "eyes", or growing nodes, located nearby the bottom of the old stem, end up no more than 2 " below the ground surface.