Peony Wisconsin Cream
Peony 'Wisconsin Cream' is a Midseason bomb White Peony Hybrid, classy, sophisticated form! elegant white bomb distinguished by a heavily petalled center tuft, super deep green healthy foliage, slightly fragrant, has good potential to become on the Exclusive list of well paid cut-flowers, (Roy Klehm, USA).
Bare root size: 3/5 eye
30"
| Size | Weight |
| --- | --- |
| 3/5 eye | 250 gram |
Quantity per standard box:
Perennial Box Size (standard) = 24" x 16" x 9" or, 60cm x 40cm x 23cm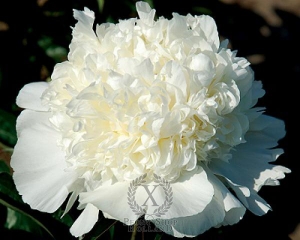 Sold Out! Available in years: 2024
Peony 'Wisconsin Cream' is one of the many special bomb White Peonies that we grow at Peony Nursery 'Peony Shop Holland'.
Who is Roy Klehm?
Roy and his wife Sarah Klehm are the formal owners of Song Sparrow Perennial Farm. The Klehm Family and the horticulture industry share a long and storied history together. The relationship dates back to 1852 when John Adam Klehm immigrated from Germany to Arlington Heights, Illinois. There he started a nursery business, principally fruit trees. John had three sons: George, Charles & Henry. All became active in the nursery business. It was Charles Klehm who developed a love for flowers. He was a charter member of the American Peony Society formed in 1903. In 1916, he planted his first peony fields where 'Emma Klehm' and 'Charlie's White' and many more varieties of Klehm Estate Peonies were hybridized, introduced and patented.
In 1943, Charles Klehm formed a partnership with his son Carl under the name Charles Klehm & Son Nursery. The nursery moved from Arlington Heights to South Barrington, Illinois in the 1960s and operated until 2004 under the direction of one of Carl Klehm's sons, Roy Klehm. Roy has introduced many new plant varieties over the years including woody introductions as well as herbaceous plants, many of which are daylilies, peonies and hosta. He has worked with breeders to introduce some of the best shade trees, crabapples, magnolias and lilacs in the industry. Roy and his wife Sarah own and operate Klehm's Song Sparrow Farm in southern Wisconsin. Roy's brother, Arnold operates a wholesale orchid operation, Arnold J. Klehm Growers, in Hampshire, Illinois.
About Peony Nursery "Peony Shop Holland Peonyshop.com" Lutjebroek, the Netherlands
Peony Nursery Peony Shop Holland Peonyshop.com nowadays exclusively centers at unique, high good quality peonies. This was not always the scenario. This firm owns an exceptional back ground starting in 1875 accompanied by Simon Scholten who also has been growing greens for income.
In the year 2001 this particular firm produced their unique modern marketing-name & logo "Peonyshop.com" and as a result they started focusing on expanding exceptional peonies. In the year 2002 the organization opened their own on-line peonyshop with Peonies & Buxus. During 2003 Joshua Scholten began with multiplying peonies. After that in year 2004 this corporation began to foreign trade peonies out of the Netherlands all over European countries, Usa plus Asian countries.
Nowadays our peony nursery is specialized in growing and spreading exclusive, premium quality peony roots that happen to be bought and released around the globe. Aside from that we even cut peonies mainly serving the Dutch peony flower market place.
The main things we pride:
The good quality of our products
The capacity to foreign trade around the world
Our broad range peonies like Wisconsin Cream
The peony crame of substantial potential seedling peonies
About Wisconsin Cream a peony
The fall season is definitely the ideal time regarding seeding peony plants. These peony plants have proven to be amazingly long-term-lived plants sustaining nearly 50 to a maximum of 70 years, so soon after an individual get the particular peonies planted in the right way, you is going to have fun with the plants for years. Peonies prefer the sunlit area having a well-drained ground. A good air flow movement available around the peonie is also important and vital. All of these surroundings assist this type of plants to prevent sickness problems. To organize the seeding hole for the purpose of a bareroot peony, dig the soil to some depth of 12-18inches. Work with a garden fork to loosen the edges of the growing hole at the same time. It can be especially important that the "eyes, ", or growth nodes, located close to the bottom of the old stem, end up no greater than 2 " beneath the ground area.