Peony White Wicker
Peony 'White Wicker' is a Midseason semi-double to double White Peony Lactiflora, wicker white, flower size 6.5 / 16.5 cm in diameter, average height 26 inch / 66 cm, good grower, fragrant, strong stems, fragrant, very floriferous, (Roy Klehm, USA, 2000).
Bare root size: 3/5 eye
26"
| Size | Weight |
| --- | --- |
| 1/2 eye | 50 gram |
Quantity per standard box:
Perennial Box Size (standard) = 24" x 16" x 9" or, 60cm x 40cm x 23cm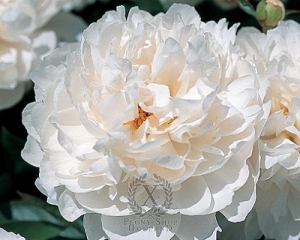 Sold Out! Available in years: 2025
Peony 'White Wicker' is one of the many semi-double white Peonies that we grow at Peony Nursery 'Peony Shop Holland'.
About Peony Nursery "Peonyshop.com" Peony Shop Holland
Peony farm Peony Shop Holland Peonyshop.com now a days solely targets at exclusive, very high high-quality peonies. This wasn't always the case. The corporation has an unique background starting off in the year 1875 with the help of Simon Scholten that also has been growing greens for an income.
During the year 2001 this business organisation generated their new advertising-label & brand "Peonyshop.com" and after that they began putting attention on growing exclusive peonies. During the year 2002 the particular corporation opened up their very own online peonyshop with Peonies & Buxus. Throughout 2003 Joshua Scholten started with breeding peonies. After that in year 2004 this business organisation began to market peonies of the Netherlands throughout European countries, America and Asia.
Currently our own peony nursery is specialized in increasing and developing exceptional, high quality peony roots which have been offered for sale and released world-wide. Aside from that this firm additionally cut peonies primarily serving the Dutch peony flower market place.
The main things we pride:
The good quality of our product
The potential to foreign trade around the world
Our new enormous collection peonies like White Wicker
The peony crame of substantial full potential seedlings
Growing White Wicker a peony
The fall season is really the best moment if you ponder planting a peony plant. The peony plants tend to be exceptionally long-term-lived plants sustaining up to fifty to a maximum of seventy years, so as soon as you'll have them placed in the correct manner, an individual is going to get pleasure from them for a long time. Peonies have a preference for a bright area having a well-drained ground. A high quality air flow movement available around the the peony plant is crucial. All of these conditions help this type of plants to stay away from illness problems. To organize the sowing hole intended for a bareroot peony plant, dig the soil to the level around 12-18inches. Make use of a garden fork to loosen the edges of the particular seeding hole as well. It is usually especially significant that the "eyes", or growth, nodes, located close to the base of the old stem, end up no more than 2 " below the ground area.