Peony White Masterpiece
Peony 'White Masterpiece' is a midseason bomb white Peony, nicely formed white bomb with hint of softest yellow around the guard petals, 1-2 side-buds, reliable, exceptional strong stems, stem length of 32 inch / 81 cm, (Roy Klehm, USA, 2003).
Bare root size: 3/5 eye
32"
| Size | Weight |
| --- | --- |
| 3/5 eye | 250 gram |
Quantity per standard box:
Perennial Box Size (standard) = 24" x 16" x 9" or, 60cm x 40cm x 23cm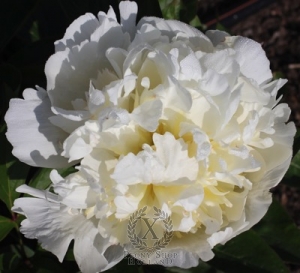 Sold Out! Available in years: 2025, 2027
Peony White Masterpiece is one of the many special bomb white Peonies that we grow at Peony Shop Holland
Regarding Peony Nursery "Peonyshop.com" Peony Shop Holland
Peony Grower Peony Shop Holland Peonyshop.com at the moment specifically focuses at increasing unique, outstanding superior quality peonies. This hasn't been always the main scenario. The company owns a rich background starting up in the year 1875 together with Simon Scholten who was basically growing fresh fruit for living.
In 2001 the business enterprise produced their distinctive new advertising and marketing-name & logo "Peonyshop.com" and consequently they began focusing on expanding exceptional peonies. During the year 2002 the company opened their online peonyshop.com with Peonies & Buxus. Within the year 2003 Joshua Scholten started with multiplying peonies. After that in year 2004 this business started to foreign trade peonies out of the Netherlands all around Europe, America and additionally Asia.
Nowadays our peony nursery is specialized in expanding and developing exceptional, premium quality peony roots that are sold and exported to anywhere in the world. Furthermore the organization also cut peonies predominantly helping the Dutch peony flower market.
The things we pride:
The high quality of our product
The ability to foreign trade worldwide
The best broad collection white peonies like White Masterpiece
Our stock of substantial full potential cut-flower production Peonies
Growing White Masterpiece peonies
Fall is really the perfect time regarding seeding a peony. These peonies are extremely long-term-lived plants staying alive approximately fifty to a max of seventy years, so right after you get the particular peonies selected and planted in the correct way, you will definitely have fun with the peonies for a long time. Peonies have a preference for some sort of sunlit location having a well-drained soil. A good quality air flow movement presented around the plant is required. These kinds of surroundings support this type of plants to avoid sickness issues. To organize a seeding hole for the purpose of a bare-root peony, dig the soil to some depth around 12-18inch. Work with a garden fork to remove the edges of the particular seeding hole as well. It is very extremely important and vital that the particular "eyes", or growth, nodes, positioned near the bottom of the old stem, end up no more than 2 inches under the ground surface area.