Peony Walter Mains
Peony 'Walter Mains' is a Midseason Japanese type red burgundy Peony Herbaceous Hybrid, Burgundy-red petals cup around a striking center of staminodes that are mixed red, gold and white. American Peony Society Gold Medal Winner 1974 (Walter Mains, 1957, USA)
Bare root size: 3/5 eye
33"
| Size | Weight |
| --- | --- |
| 1/2 eye | 50 gram |
| 3/5 eye | 250 gram |
Quantity per standard box:
Perennial Box Size (standard) = 24" x 16" x 9" or, 60cm x 40cm x 23cm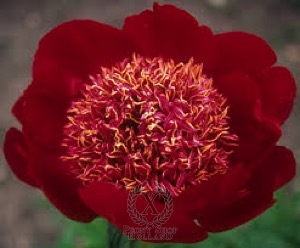 Sold Out! Available in years: 2025
Peony Walter Mains is one of the many Japanese type burgundy red Peonies that we grow at Peony Nursery Peony Shop Holland
About Peony Grower "Peony Shop Holland Peonyshop.com"
Peony Nursery Peony Shop Holland Peonyshop.com in these days only concentrates at exceptional, high prime quality peonies. It has not always been this situation. This particular organization carries an unique history starting in 1875 with Simon Scholten that had been growing fresh fruit for her income.
During 2001 this corporation produced their distinctive innovative marketing and advertising-title & brand "Peonyshop.com" and as a result they started putting attention on expanding unique peonies. Throughout 2002 the particular corporation opened their on-line peonyshop together with Peonies & Buxus. Within 2003 Joshua Scholten began with breeding peonies. After that in year 2004 this company started to export peonies out of the Netherlands all-around Europe, America and additionally Asia.
Right now our peony nursery is specialized in improving and multiplying unique, top quality peony roots that can be offered for sale and exported to throughout the world. Additionally we even reduce peonies predominantly serving the Dutch peony flower sector.
The things we pride:
The top quality of our own products
Our potential to export world wide
Our new wide-ranging assortment peonies like Walter Mains
The peony crame of large potential seedlings
About Walter Mains peonies
The fall is generally considered to be the ideal moment for planting a peony. These peonies tend to be unbelievably long-term-lived plants lasting approximately 50 up to 70 yrs, so as soon as you'll have the particular peonies placed in the correct manner, you will certainly benefit from the peonies for years. The plants prefer the bright position with a well-drained ground. A good air flow movement available the plant is also required. These environments allow peonies avoid sickness issues. To prepare a sowing hole for a bareroot peony, dig the ground to a level of 12-18inch. Use garden tools to release the sides of the planting hole as well. It is actually very essential that the "eyes, ", or growth nodes, located near the base of the old stem, end up no greater than Two " beneath the ground surface area.