Peony Walla Walla
Peony Walla Walla is a Late Midseason double white Peony Herbaceous Lactiflora. Flowers are medium sized, fully double, white, with some center petals delicately edged in red, and a pale yellow glow from the depths of the center. Average of three flowers per stem. Cupped guards (2 inch average width) are generally smooth-edged, forming a nicely rounded flower. Stamens and carpels are fully transformed, absent. Staminodal disk obscure, barely visible, the few projections visible are pink. Up-facing flower presentation. Very fragrant. Mid/late season bloom period. Upright growth habit, average height to 36 inches / 90 cm. Mechanical support not needed. First year bloomed unknown, propagated 2005. Seedling McCrae #27. Parentage: 'Lake 'o Silver' (Franklin, 1920) open pollinated. 'Walla Walla' was awarded a Certificate of Merit in the Seedlings Class 301 at the APS meeting and exhibition held in Omaha, Nebraska, 2012. (McCrae/Adelman, 2012, USA).
Bare root size: 3/5 eye
36"
| Size | Weight |
| --- | --- |
| 2/3 eye | 150 gram |
Quantity per standard box:
Perennial Box Size (standard) = 24" x 16" x 9" or, 60cm x 40cm x 23cm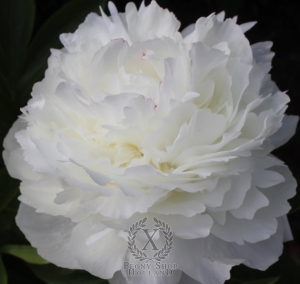 Sold Out! Available in years: 2025
Peony Walla Walla is one of the double white Peonies that we grow at Peony Shop Holland
Regarding Peony growers "Peonyshop.com" Peony Shop Holland
Peony Growers Peonyshop.com Peony Shop Holland right now specifically concentrates on getting exceptional, outstanding prime quality peonies. This has not been always the situation. This specific company has an unique background with the starting point in the year 1875 together with Simon Scholten who was basically growing fresh vegetables for her income.
During the year 2001 this company put together their unique modern marketing and advertising-label & logo "Peonyshop.com" and after that they started focusing on improving unique peonies. In the year 2002 the particular firm launched their very own shop on the internet", the: peonyshop with Peonies & Buxus. During the year 2003 Joshua Scholten started off on with raising peonies. Than in year 2004 this institution began to export peonies originating from the Netherlands all-around European countries, America and also Asia.
Currently our peony nursery is specialized in growing and spreading exclusive, high quality peony roots that can be marketed and released globally. Furthermore we also cut peonies primarily supporting the Dutch peony flower market place.
The things we pride:
The superior quality of our products
The capability to foreign trade international
Our new enormous assortment of yellow peonies like Hadrian
The peony Nursery of high potential yellow Peonies for cut-flower production.
About growing Hadrian a yellow Peony
Fall is undoubtedly a suitable period of time regarding seeding peonies. Pretty much all peony plants are generally unbelievably long-lived plants staying around nearly fifty to a max of seventy years, so once you get the peonies placed in the right way, an individual will definitely get pleasure from the peonies for years and years. The plants like a shiny location having a well-drained dirt. A good air movement available the peonies can also be important. All of these settings help these plants to stay away from sickness issues. To arrange the seeding hole meant for a bare-root peony, dig the ground to some depth around 12-18inch. Make use of garden tools to release the edges of the growing hole as well. It is very pretty important that the particular "eyes, ", or growth, nodes, situated close to the bottom of the old stem, end up no more than Two inch under the ground surface area.