Peony Truly Yours
Peony 'Truly Yours' is a Late Midseason double White blush Peony Lactiflora, petals deeply silvered, crinkled edges, occasional red markings, stiff stems, (Nicholls-Gilbert H. Wild & Son, USA, 1958).
Bare root size: 3/5 eye
30"
| Size | Weight |
| --- | --- |
| 3/5 eye | 250 gram |
Quantity per standard box:
Perennial Box Size (standard) = 24" x 16" x 9" or, 60cm x 40cm x 23cm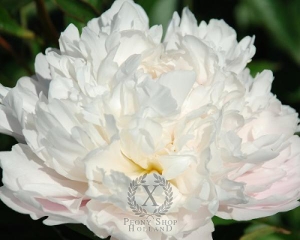 Sold Out! Available in years: 2024
Peony 'Truly Yours' is one of the many double White blush Peonies that we grow at Peony Nursery 'Peony Shop Holland'.
About peony farm Peony Shop Holland "Peonyshop.com" Lutjebroek
Peony Grower Peony Shop Holland Peonyshop.com now a days primarily focuses at improving exclusive, exceptional best quality peonies. It hasn't always been this way. This corporation carries a successful history getting started in the year 1875 with the help of Simon Scholten that has been growing veggies for her full time income.
In the year 2001 this company manufactured their distinctive new marketing and advertising-name & logo "Peonyshop.com" and as a result they started off putting attention on increasing exceptional peonies. In the year 2002 this corporation opened up their own world wide web peonyshop with Peonies & Buxus. Throughout the year 2003 Joshua Scholten started with multiplying peonies. After that in 2004 the particular organization began to foreign trade peonies of the Netherlands all over European countries, America and additionally Asian countries.
Nowadays our own peony nursery is focused on increasing and increasing the number of unique, high-quality peony roots that happen to be offered for sale and exported to internationally. In addition this company also cut peonies mainly assisting the Dutch peony flower marketplace.
The particular things we pride:
The good quality of our product
The potential to foreign trade across the globe
Our own substantial collection peonies like Truly Yours
The peony crame of high potential seedling peonies
Growing Truly Yours a peony
Fall is actually the perfect time regarding planting peonies. All peonies are usually extremely long-term-lived plants beeing alive nearly fifty up to seventy years, so right after an individual get the peonies placed correctly, a person will definitely have fun with the peonies for a long time. The plants like the shiny spot with a well-drained dirt. A good air movement available the the peony plant can also be essential. These sorts of environments support this type of plants to prevent sickness problems. To make the planting hole for the purpose of a bareroot peony, dig the ground to some level of 12-18inch. Utilize a garden fork to remove the sides of the planting hole at the same time. It can be pretty essential that the "eye", or growth, nodes, located close to the base of the old stem, end up no greater than 2 " below the ground surface area.