Peony Top Brass
Peony 'Top Brass' is a Midseason bomb White Peony Lactiflora, wide ivory guard petals surround a large double bomb flower of canary yellow highlighted with light pink petaloids in the center, light fragrant, good cut flower, (Carl. G. Klehm, USA, 1968)
Bare root size: 3/5 eye
28"
| Size | Weight |
| --- | --- |
| 3/5 eye | 250 gram |
Quantity per standard box:
Perennial Box Size (standard) = 24" x 16" x 9" or, 60cm x 40cm x 23cm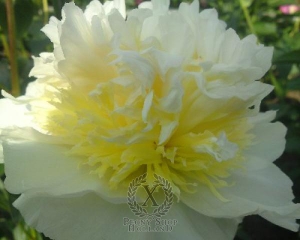 Sold Out! Available in years: 2023
Peony 'Top Brass' is one of the many White bomb Peonies that we grow at Peony Nursery 'Peony Shop Holland'.
Regarding Peony Nursery "Peonyshop.com" Peony Shop Holland
Peony farm Peonyshop.com at this time exclusively focuses at growing exclusive, great leading peonies. It hasn't always been this way. The company has a wealthy back ground starting in 1875 together with Simon Scholten who also had been growing fresh vegetables for money.
During 2001 the business organisation put together their unique innovative selling-name & logo "Peonyshop.com" and they began centering on developing unique peonies. In the year 2002 the particular company opened their world wide web peonyshop with Peonies & Buxus. Within 2003 Joshua Scholten started out with breeding peonies. Than in year 2004 this particular institution began to export peonies from the Netherlands throughout Europe, Usa plus Asia.
Nowadays our peony nursery is specialized in increasing and multiplying unique, premium quality peony roots that can be offered for sale and exported to throughout the world. Furthermore we additionally cut peonies largely serving the Dutch peony flower market.
The things we pride:
The high quality of our products
Our potential to foreign trade international
The best wide-ranging range peonies like Top Brass
Our crame of high full potential seedlings
About Top Brass peonies
The fall is considered to be the correct moment regarding planting a peony plant. The peonies tend to be unbelievably long-term-lived plants lasting nearly fifty up to seventy yrs, so once you get them planted in the correct manner, a person is going to have fun with them for years and years. Peonies prefer a sun-drenched position together with a well-drained dirt. A good air circulation available the peonie is also very important. These kind of surroundings allow this type of plants to avoid illness problems. To make the sowing hole for a bareroot peony, dig the dirt to a depth of 12-18inch. Make use of a garden fork to release the sides of the planting hole as well. It is very important that the particular "eyes, ", or growing nodes, positioned nearby the base of the old stem, end up no greater than Two inch under the soil surface.