Peony Sunny Day
Peony Sunny Day is an Early single yellow Peony Herbaceous Hybrid, two rows of large, bright yellow, cupped, fluted and well-rounded petals form a five-inch or larger flower, flowers are placed shortly above the foliage of the upright bush on erect to lightly spreading stems, strong grower, very rare to get! Pedigree: (Roy Pehrson's Best Yellow x Sunny Boy), presumed tetraploid, fertile pollen and seeds, (Don Hollingsworth, USA, 2011).
Bare root size: 3/5 eye
30"
| Size | Weight |
| --- | --- |
| 3/5 eye | 250 gram |
Quantity per standard box:
Perennial Box Size (standard) = 24" x 16" x 9" or, 60cm x 40cm x 23cm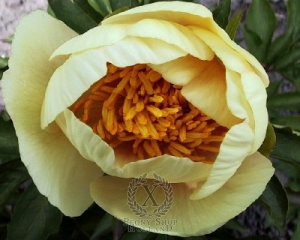 Sold Out! Available in years: 2025
Peony 'Sunny Day' is one of the many single yellow Peonies that we grow at Peony Nursery 'Peony Shop Holland'.
Regarding Peony Nursery "Peonyshop.com"
Peony farm Peony Shop Holland at the moment specifically concentrates on building exceptional, good high-quality peonies. This was not always the scenario. This corporation carries an exceptional history starting up in 1875 along with Simon Scholten that also was basically growing greens for her full time income.
During the year 2001 the corporation put together their new marketing and advertising-label & logo design "Peonyshop.com" and as a result they began centering on improving unique peonies. Throughout 2002 the company opened their very own shop on the web", the: peonyshop together with Peonies & Buxus. In 2003 Joshua Scholten began with breeding peonies. After that in year 2004 the corporation began to foreign trade peonies from the Netherlands throughout Europe, Usa and also Asian countries.
Right now our peony nursery is focused on increasing and spreading special, good quality peony roots which can be distributed and exported to around the world. In addition we also reduce peonies mainly helping the Dutch peony flower marketplace.
The most important things we pride:
The good quality of our products
The capacity to foreign trade around the world
All of our broad collection peonies like Sunny Day
Our crame of substantial potential seedling peonies
Growing Sunny Day peony plants
Fall happens to be the perfect period for planting peony plants. All peony plants happen to be extremely long-term-lived plants staying alive nearly fifty to 70 years, so once an individual get the particular peonies planted correctly, a person will definitely enjoy the plants for many, many years. Peonies opt for some sort of bright location having a well-drained ground. A good air movement available the the peony plant is very important. These sorts of settings support this type of plants to stay away from illness problems. To arrange the seeding hole intended for a bareroot peony plant, dig the soil to the level around 12-18inch. Utilize garden tools to release the sides of the growing hole at the same time. It really is pretty important and vital that the particular "eye", or growth, nodes, situated near the bottom of the old stem, end up no greater than Two inches under the soil surface area.