Peony Soft Salmon Saucer
Peony Soft Salmon Saucer is an early single salmon pink Peony Herbaceous Hybrid, salmon pink single cup with a golden center, upright bush, stem length 34 inch / 85 cm, none side-buds, healthy foliage, nicely fragrant, good for cut-flower production (Lyman Cousins / Roy Klehm, Canada, ON, 1981).
Bare root size: 3/5 eye
34"
| Size | Weight |
| --- | --- |
| 2/3 eye | 150 gram |
Quantity per standard box:
Perennial Box Size (standard) = 24" x 16" x 9" or, 60cm x 40cm x 23cm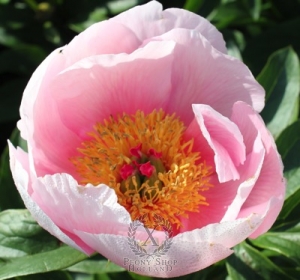 Sold Out! Available in years: 2025, 2026
Peony Soft Salmon Saucer is one of the many single salmon pink peonies that we grow at Peony Nursery Peony Shop Holland
Regarding Peony grower Peony Shop Holland "Peonyshop.com" Lutjebroek
Peony Nursery Peony Shop Holland right now only focuses at increasing exceptional, great prime quality peonies. This wasn't always the situation. This corporation owns a rich background starting off in 1875 together with Simon Scholten who had been growing veggies for money.
In the year 2001 the organization built their distinctive innovative marketing and advertising tactics-label & brand "Peonyshop.com" and after that they started putting attention on growing exceptional peonies. Within 2002 this organization opened their shop on the web", the: peonyshop.com together with Peonies & Buxus. During 2003 Joshua Scholten started with breeding peonies. After that in year 2004 this firm started to export peonies originating from the Netherlands all around Europe, Usa and additionally Asian countries.
Right now our peony nursery is specialized in improving and spreading unique, premium quality peony roots that are sold and exported to around the globe. Furthermore the particular company additionally cut peonies mainly helping the Dutch peony flower market place.
The most important things we pride:
The excellent quality of our own products
The potential to foreign trade world wide
Our broad assortment of pink peonies like Soft Salmon Saucer
The peony stock of high potential pink peonies for cut-flower production
Growing Soft Salmon Saucer a pink peony flower
The fall is the right moment regarding growing peony plants. All the peony plants are amazingly long-term-lived plants lasting approximately fifty to a maximum of seventy years, so as soon as you have the particular peonies planted rightly, a person definitely will benefit from them for years and years. Peonies opt for the shiny position together with a well-drained soil. A high quality air flow circulation available the plant can also be important and vital. These particular settings assist these plants to stay away from sickness issues. To arrange the sowing hole meant for a bare-root peony plant, dig the ground to the level around 12-18inch. Utilize a garden fork to release the edges of the particular growing hole at the same time. It truly is really significant that the "eyes", or growing nodes, situated near the base of the old stem, end up no more than 2 inches under the soil area.