Peony Snow Mountain
Peony Snow Mountain is a Midseason bomb-type double White Peony Herbaceous Lactiflora, white, opening light creamy pink, fading white, the bloom grows into a high mountain of snow white petals, clean and healthy buds open without trouble, strong stems, foliage medium dark green, (Bigger, USA, 1946).
Bare root size: 3/5 eye
34"
| Size | Weight |
| --- | --- |
| 1/2 eye | 50 gram |
Quantity per standard box:
Perennial Box Size (standard) = 24" x 16" x 9" or, 60cm x 40cm x 23cm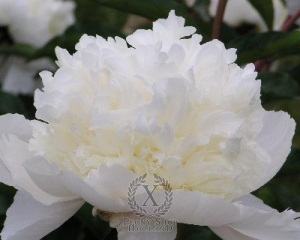 Sold Out! Available in years: 2024, 2025
Peony Snow Mountain is one of the many bomb-type double White Peonies that we grow at Peony Nursery 'Peony Shop Holland'.
About Peony farm "Peonyshop.com" Peony Shop Holland
Peony Growers Peony Shop Holland at the moment only centers at expanding unique, great good quality peonies. It hasn't always been this situation. This specific company comes with an outstanding background getting started in 1875 together with Simon Scholten who has been growing veggies for income.
In the year 2001 this specific firm formed their new-found marketing and advertising tactics-label & brand "Peonyshop.com" and consequently they started concentrating on expanding exceptional peonies. Throughout 2002 typically the firm opened up their own online peonyshop together with Peonies & Buxus. During 2003 Joshua Scholten started with multiplying peonies. After that in year 2004 the particular organization began to foreign trade peonies originating from the Netherlands all over European countries, Usa and even Asian countries.
Nowadays our peony nursery is specialized in improving and multiplying exceptional, premium quality peony roots which can be marketed and exported to anywhere in the world. Additionally the particular organization even cut peonies predominantly supporting the Dutch peony flower marketplace.
The main things we pride:
The high quality of our products
Our capability to foreign trade world wide
Our new broad collection peonies like Snow Mountain
Our crame of substantial full potential seedling peonies
Growing Snow Mountain peonies
The fall is truly the best time regarding seeding peony plants. The peonies are generally incredibly long-term-lived plants sustaining approximately 50 up to 70 years, so as soon as an individual get the particular peonies placed in the correct manner, an individual will certainly benefit from them for years. Peonies have a preference for a shiny position together with a well-drained ground. A good air circulation available the plant can also be important. These kind of circumstances help peonies prevent sickness problems. To organize the seeding hole intended for a bareroot peony plant, dig the dirt to the depth around 12-18inch. Use a garden fork to release the edges of the particular growing hole at the same time. It's always very critical that the "eye", or growth, nodes, positioned near the bottom of the old stem, end up no more than 2 " beneath the ground area.