Peony She's My Star
Peony She's My Star is a Midseason bomb Pink with Cream Peony Herbaceous Lactiflora, warm multicolored pink and cream bomb blossoms with tightly packed petals, the double row of round, large guard petals nicely hold the flower form, the blossom top matches the delicate color of the guards, slightly fragrant, strong stems, average height 28 inch / 71 cm, good for cut-flower production and lovely plant for in the garden. (Roy G. Klehm, USA, 2000).
Bare root size: 3/5 eye
28"
| Size | Weight |
| --- | --- |
| 3/5 eye | 250 gram |
Quantity per standard box:
Perennial Box Size (standard) = 24" x 16" x 9" or, 60cm x 40cm x 23cm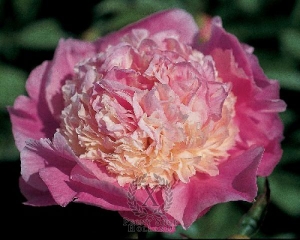 Sold Out! Available in years: 2024, 2025
Peony She's My Star is one of the many special bomb Pink with cream Peonies that we grow at Peony Nursery 'Peony Shop Holland'. She's My Star is a wonderfully warm multicolored Peony that is lovely for in the garden and for cut-flower production.
About Peony Nursery "Peonyshop.com" Peony Shop Holland
Peony Nursery Peony Shop Holland Peonyshop.com at this point primarily focuses on increasing unique, great top quality peonies. This hasn't been always the main scenario. This specific organization has a rich back ground starting up in the year 1875 along with Simon Scholten that also had been growing veggies and fruit for living.
In 2001 the business enterprise generated their distinctive spanking new marketing-name & brand "Peonyshop.com" and consequently they started off focusing on expanding exceptional peonies. During the year 2002 the company opened their very own on-line peonyshop together with Peonies & Buxus. Within the year 2003 Joshua Scholten started out with multiplying peonies. Than in 2004 the particular corporation started to export peonies out of the Netherlands all around European countries, America plus Asia.
Nowadays our peony nursery is specialized in maximizing and increasing the number of unique, premium quality peony roots that can be offered for sale and exported to world-wide. Furthermore we even reduce peonies primarily helping the Dutch peony flower market.
The most important things we pride:
The excellent quality of our own products
The capacity to export world wide
Our own enormous assortment of pink with cream peonies like She s My Star
The peony nursery of large potential pink with cream peonies
Growing She's My Star a pink with cream peony flower
Fall has been the best period regarding seeding peony plants. The peony plants are usually extremely long-lived plants functioning for nearly fifty up to seventy yrs, so once you have the peonies placed rightly, you will have fun with the peonies for a long time. Peonies like a shiny place with a well-drained ground. A high quality air flow movement presented around the the peony plant is also very important. These sorts of surroundings support peonies stay away from disease problems. To arrange the planting hole for a bare-root peony, dig the ground to a depth of 12-18". Utilize a garden fork to loosen the edges of the particular planting hole as well. It truly is very important that the particular "eye", or growing nodes, located nearby the base of the old stem, end up no more than Two " beneath the ground surface.