Peony Severus Alexander®
Peony Severus Alexander® Is a Very Early semi-double to double white Peony Herbaceous Hybrid, up-facing, semi-double White, smooth flower bud, opens to a large White flower with a hint blush. Outer Guard Petals are frilled and ruffled. Flower size 6.3 inch / 17 cm, flower bud 1.2-1.6 inch / 3-4 cm. Has average 3 very hairy green carpels with normal shaped dark pink stigmas. Has Pollen, no seeds noticed. Vigorous grower, lots of flowers. Healthy green foliage, broad pointed shiny leaves. Average height 29.5 inch / 75 cm. First year bloomed 2013, first year propagated 2015. Good for cutting and nice garden plant. (Joshua Scholten - Peony Shop Holland, Lutjebroek, The Netherlands, 2022).
Bare root size: 3/5 eye
29.5"
| Size | Weight |
| --- | --- |
| 3/5 eye | 250 gram |
Quantity per standard box:
Perennial Box Size (standard) = 24" x 16" x 9" or, 60cm x 40cm x 23cm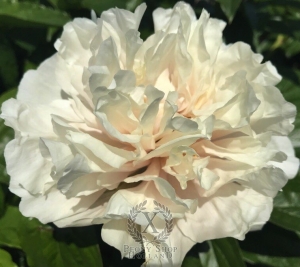 ---
Size (eye)
1+
3+
3/5

€

2,100.00

€

2,000.00
---
Please
login
to place orders and see Peony prices for all quantities.
Peony Severus Alexander® is one of the many semi-double to double white Peonies that we grow at Peony Shop Holland.
Regarding Peony growers "Peonyshop.com" Peony Shop Holland
Peony Nursery Peony Shop Holland peonyshop.com now a days specifically centers on increasing unique, good best quality peonies. It hasn't always been this situation. This specific company has an unique history with the starting point in the year 1875 with Simon Scholten that also was growing fruit and vegetables for money.
During the year 2001 this specific company made up their new-found marketing and advertising-title & brand "Peonyshop.com" and as a result they began centering on growing unique peonies. Within the year 2002 this corporation opened their very own online peonyshop.com together with Peonies & Buxus. In the year 2003 Joshua Scholten started with raising peonies. After that in 2004 the particular corporation started to export peonies out of the Netherlands all-around Europe, America plus Asia.
Right now our peony nursery is specialized in maximizing and spreading exceptional, premium quality peony roots that can be marketed and released world-wide. Furthermore the particular firm additionally reduce peonies mainly helping the Dutch peony flower marketplace.
The most important things we pride:
The premium quality of our own product
Our ability to foreign trade world-wide
The best extensive assortment peonies like Severus Alexander
The peony nursery of substantial potential white peonies for cut-flower production.
About growing Severus Alexander a beautifully semi-double to double white peony
The fall is really a suitable period of time for planting peony plants. A lot of peonies tend to be extremely long-lived plants staying alive close to 50 to 70 yrs, so as soon as a person have them selected and planted correctly, an individual will certainly benefit from the plants for a long time. These plants like some sort of shiny location with a well-drained dirt. A good air movement available the plant is required. These kind of settings support this type of plants to prevent disease problems. To arrange the planting hole intended for a bare-root peony plant, dig the dirt to a depth of 12-18". Utilize a garden fork to loosen the sides of the growing hole at the same time. It is usually really important and vital that the particular "eye", or growth, nodes, located near the bottom of the old stem, end up no greater than Two " under the soil area.