Peony Serene Pastel
Peony Serene Pastel is a Midseason double soft Pink Peony Herbaceous Lactiflora, unusually colored light salmon, blush pink, beautiful rounded guard petals, fragrant, fades to white with blush pink highlights, (Roy G. Klehm, USA, 2000).
Bare root size: 3/5 eye
28"
| Size | Weight |
| --- | --- |
| 3/5 eye | 250 gram |
Quantity per standard box:
Perennial Box Size (standard) = 24" x 16" x 9" or, 60cm x 40cm x 23cm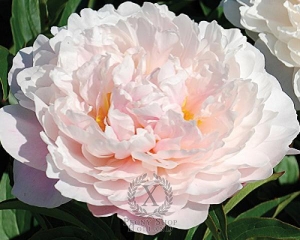 Sold Out! Available in years: 2024, 2025
Peony Serene Pastel is one of the many double soft Pink Peonies that we grow at Peony Nursery 'Peony Shop Holland'.
Regarding Peony Nursery "Peonyshop.com" Peony Shop Holland
Peony Grower Peony Shop Holland nowadays exclusively concentrates on improving exceptional, exceptional good peonies. This was not always the situation. The company carries a wealthy background opening in 1875 with the help of Simon Scholten who also has been growing fruit for money.
In 2001 this specific company designed their modern selling-label & logo "Peonyshop.com" and consequently they started focusing on expanding exceptional peonies. Throughout 2002 typically the firm opened their own shop on the web", the: peonyshop with Peonies & Buxus. Within 2003 Joshua Scholten started out with multiplying peonies. After that in 2004 this institution started to export peonies originating from the Netherlands throughout European countries, Usa and even Asia.
Currently our own peony nursery is focused on increasing and spreading special, good quality peony roots which have been bought and released world-wide. Aside from that this firm also reduce peonies predominantly serving the Dutch peony flower industry.
The most important things we pride:
The excellent quality of our own products
Our potential to foreign trade international
Our own broad range peonies like Serene Pastel
Our crame of large full potential seedlings
About Serene Pastel peonies
The fall is certainly the best moment regarding planting peonies. Pretty much all peonies are incredibly long-term-lived plants beeing alive approximately 50 to a maximum of seventy years, so once you get them selected and planted in the right way, a person will have fun with them for many, many years. The plants opt for the sunlit position with a well-drained ground. A high quality air flow circulation available around the plant is mandatory. All of these milieu allow peonies avoid disease problems. To make a seeding hole meant for a bareroot peony plant, dig the soil to the depth around 12-18inch. Work with garden tools to loosen the edges of the particular planting hole at the same time. It can be extremely critical that the "eyes, ", or growth, nodes, positioned nearby the bottom of the old stem, end up no greater than Two inches under the dirt surface.