Peony Salus Seedling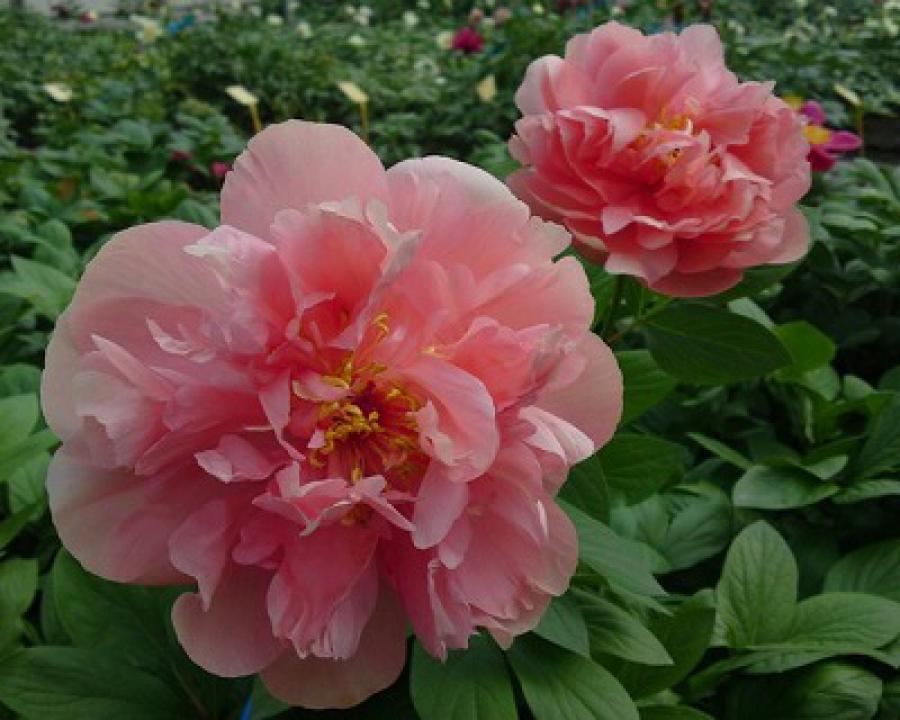 Paeonia 'Salus' is an Early Pink Peony Seedling, semi-double, pink, large salmon pink flowers, vigorous, first bloomed 2012, unregistered seedling, Salus was the Goddess of the public welfare of the Roman people; came to be equated with the Greek Goddess Hygieia, (Joshua Scholten, 2012, Holland).
Bare root size: 3/5 eye
32"
Weight: 250 gram
Quantity per standard box: 25
Perennial Box Size (standard) = 24" x 16" x 9" or, 60cm x 40cm x 23cm
Sold out! Available in 2022
Peony 'Salus' (Paeonia Salus) Peonies are one of the many Pink Peonies that are being grown at the Dutch Peony Nursery of 'Peony Shop Holland'.
Regarding peony nursery "Peonyshop.com"
Peony Farm Peony Shop Holland at the moment exclusively concentrates at increasing exclusive, outstanding leading peonies. It hasn't always been this situation. The corporation has got an unique back ground starting off in 1875 accompanied by Simon Scholten who also was growing fruit and vegetables for a full time income.
In the year 2001 the business enterprise put together their unique new-found advertising and marketing-name & brand "Peonyshop.com" and as a result they began concentrating on developing exclusive peonies. During 2002 the particular firm opened up their own world wide web peonyshop together with Peonies & Buxus. Throughout 2003 Joshua Scholten started out with multiplying peonies. After that in 2004 the firm started to foreign trade peonies originating from the Netherlands all around Europe, America plus Asia.
Nowadays our peony nursery is specialised in maximizing and spreading exclusive, good quality peony roots that are marketed and released around the globe. In addition the particular company also reduce peonies mainly helping the Dutch peony flower market.
The main things we pride:
The high quality of our own products
The capability to foreign trade world wide
Our own wide-ranging collection peonies like Salus
Our crame of high potential seedlings
About growing Salus peony plants
The fall is truly the right period of time regarding planting a peony. All the peony plants are generally incredibly long-lived plants long lasting approximately 50 to 70 yrs, so as soon as a person get them selected and planted rightly, an individual definitely will get pleasure from the plants for many, many years. Peonies have a preference for the sunlit place with a well-drained dirt. A good air circulation presented around the plant can also be crucial. These kinds of environs support these plants to avoid illness issues. To make a seeding hole designed for a bareroot peony, dig the ground to some level of 12-18inch. Utilize garden tools to loosen the sides of the particular seeding hole at the same time. It is always really essential that the particular "eyes, ", or growth, nodes, positioned nearby the bottom of the old stem, end up no more than Two inches under the ground surface.