Peony Raspberry Sundae
Peony Raspberry Sundae is a Midseason bomb Pink Peony Herbaceous Lactiflora, pink, reminiscent of scoops of vanilla ice cream covered with raspberry topping dripping through the petals, mild sweet fragrance, strong stems, good cut-flower, it belongs on the "good" list of well paid peony cut flowers, (Carl. G. Klehm, USA, 1968).
Bare root size: 3/5 eye
36"
| Size | Weight |
| --- | --- |
| 3/5 eye | 250 gram |
Quantity per standard box:
Perennial Box Size (standard) = 24" x 16" x 9" or, 60cm x 40cm x 23cm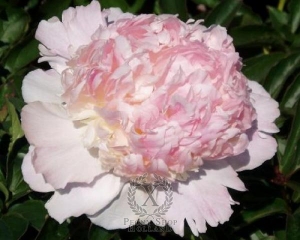 ---
Size (eye)
1+
3+
3/5

€

17.00

€

14.00
---
Please
login
to place orders and see Peony prices for all quantities.
Peony Raspberry Sundae is one of the many bomb Pink Peonies that we grow at Peony Nursery 'Peony Shop Holland'.
Regarding peonynursery "Peonyshop.com" Lutjebroek, the Netherlands
Peony farm Peonyshop.com at the moment only targets at growing unique, very high prime quality peonies. It has not always been this situation. The corporation has got a rich background getting started in 1875 accompanied by Simon Scholten who was basically growing vegetables and fruits for her income.
In the year 2001 the corporation created their innovative marketing-title & brand "Peonyshop.com" and after that they started off centering on growing exclusive peonies. Within 2002 the company launched their own online peonyshop with Peonies & Buxus. During the year 2003 Joshua Scholten began with raising peonies. Than in year 2004 this company started to export peonies of the Netherlands throughout European countries, Usa and Asia.
Right now our peony nursery is specialised in expanding and spreading unique, good quality peony roots which have been distributed and exported to globally. Additionally this firm even cut peonies predominantly helping the Dutch peony flower market place.
The most important things we pride:
The high-quality of our own product
Our capacity to foreign trade international
Our new extensive collection peonies like Raspberry Sundae
The peony crame of substantial full potential seedling peonies
About growing Raspberry Sundae peony plants
The fall is really a suitable period of time if you think about growing peonies. All the peonies are amazingly long-term-lived plants long lasting close to fifty up to seventy years, so once an individual have them selected and planted rightly, you will certainly get pleasure from the peonies for a long time. Peonies prefer a sun-drenched spot together with a well-drained soil. A good air flow movement available around the peonie is mandatory. These sorts of surroundings help peonies avoid sickness issues. To arrange a planting hole for the purpose of a bareroot peony, dig the dirt to the level of 12-18inch. Use garden tools to remove the sides of the planting hole as well. It truly is especially critical that the "eyes", or growth, nodes, located nearby the base of the old stem, end up no more than Two inch beneath the ground surface.