Peony Raspberry Splash
Peony Raspberry Splash is an Early Midseason single Cactus dahlia type Raspberry Peony Herbaceous Lactiflora, raspberry, Cactus dahlia type, raspberry streaked with prominent raspberry stigmas, petals fluted and dancing, slightly fragrant, nice deep green foliage, no stamens, pollen or seeds, one bud per stem, good substance, (Roy G. Klehm, USA, 1999).
Bare root size: 3/5 eye
30"
| Size | Weight |
| --- | --- |
| 1/2 eye | 50 gram |
| 3/5 eye | 250 gram |
Quantity per standard box:
Perennial Box Size (standard) = 24" x 16" x 9" or, 60cm x 40cm x 23cm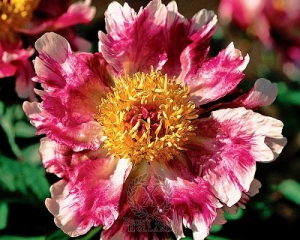 ---
Size (eye)
1+
3+
1/2

€

15.00

€

12.00
3/5

€

25.00

€

22.00
---
Please
login
to place orders and see Peony prices for all quantities.
Peony Raspberry Splash is one of the many single Cactus Dahlia raspberry Peonies that we grow at Peony Nursery 'Peony Shop Holland'.
Regarding Peony Nursery "Peony Shop Holland Peonyshop.com" Lutjebroek, the Netherlands
Peony nursery Peonyshop.com at the moment exclusively focuses at growing exceptional, great good peonies. It has not always been this way. This corporation has got an unique history getting started in the year 1875 together with Simon Scholten that was basically growing fruit and vegetables for an income.
During 2001 the corporation formed their very own new-found selling-name & logo "Peonyshop.com" and consequently they started off concentrating on increasing exclusive peonies. Within the year 2002 this business opened their own shop on the internet", the: peonyshop together with Peonies & Buxus. During the year 2003 Joshua Scholten started off on with breeding peonies. After that in 2004 the particular business began to foreign trade peonies from the Netherlands all over Europe, America and even Asia.
Right now our own peony nursery is focused on growing and developing exclusive, top quality peony roots that can be distributed and exported to in many countries. Additionally the particular firm also cut peonies largely helping the Dutch peony flower marketplace.
The particular things we pride:
The excellent quality of our own products
The capability to foreign trade world-wide
All of our extensive collection peonies like Raspberry Splash
The peony crame of high potential seedlings
Growing Raspberry Splash peonies
The fall season is without a doubt the perfect period for growing peonies. These peony plants are actually incredibly long-term-lived plants functioning for nearly 50 up to seventy yrs, so right after you'll get them selected and planted in a correct way, an individual definitely will get pleasure from the peonies for years. These plants opt for some sort of sun-drenched location with a well-drained dirt. A good quality air flow circulation available the plant is also essential. These kinds of environs allow peonies prevent disease problems. To arrange a sowing hole intended for a bareroot peony, dig the soil into a level of 12-18". Make use of garden tools to loosen the edges of the particular seeding hole as well. It really is especially essential that the "eyes", or growth, nodes, positioned near the bottom of the old stem, end up no greater than 2 inches under the ground area.