Peony Raspberry Clown
Peony 'Raspberry Clown' is a Midseason double Pink Peony Lactiflora, pink, high crowned blooms with intense raspberry streaking and blotching on its soft pink to cream base, slightly fragrance, excellent stem strength, (Roy G. Klehm, USA, 1995).
Bare root size: 3/5 eye
34"
| Size | Weight |
| --- | --- |
| 3/5 eye | 250 gram |
Quantity per standard box:
Perennial Box Size (standard) = 24" x 16" x 9" or, 60cm x 40cm x 23cm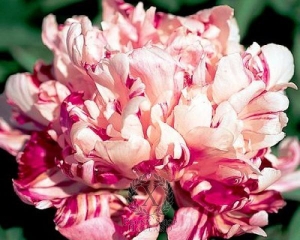 Sold Out! Available in years: 2024
Peony 'Raspberry Clown' is one of the many double Pink Peonies that we grow at Peony Nursery 'Peony Shop Holland'.
Regarding peonynursery "Peonyshop.com" Peony Shop Holland Lutjebroek
Peony farm Peonyshop.com now a days specifically centers on building exclusive, outstanding leading quality peonies. It has not always been this way. The company owns an wide-ranging back ground starting up in the year 1875 together with Simon Scholten who also was growing fresh vegetables for living.
During the year 2001 this particular firm constructed their new promotion-name & brand "Peonyshop.com" and they started off concentrating on expanding exceptional peonies. Throughout 2002 the particular corporation opened their very own world wide web peonyshop together with Peonies & Buxus. Within the year 2003 Joshua Scholten started off on with breeding peonies. Than in year 2004 this company began to sell peonies of the Netherlands throughout European countries, America and even Asia.
Nowadays our own peony nursery is specialised in maximizing and increasing the number of special, premium quality peony roots that can be offered for sale and exported to around the globe. Additionally this firm even reduce peonies predominantly supporting the Dutch peony flower industry.
The main things we pride:
The premium quality of our own products
The ability to export all over the globe
Our wide-ranging range peonies like Raspberry Clown
Our crame of high potential seedlings
About Raspberry Clown a peony
Fall is undoubtedly the ideal time for planting peonies. All the peony plants are usually incredibly long-lived plants long lasting approximately 50 up to 70 years, so as soon you'll have them placed in the correct manner, a person definitely will enjoy the peonies for a long time. Peonies have a preference for a sunny location having a well-drained soil. A good air movement available around the the peony plant can also be important. These kinds of environs assist this type of plants to avoid sickness issues. To prepare a seeding hole meant for a bareroot peony plant, dig the dirt into a level around 12-18inch. Work with garden tools to release the sides of the particular growing hole as well. It is pretty important and vital that the "eyes, ", or growth, nodes, situated nearby the bottom of the old stem, end up no more than 2 inches beneath the ground surface.