Peony Pink Vanguard
Peony Pink Vanguard is an Early semi-double Pink Peony Herbaceous Hybrid, that forms a large pink bowl, long broad guard petals surround several rows of inner petals having excellent substance surround a thin band of natural stamens encircling the carpels, opens a cool medium pink hue, passing lighter as the flower ages red accents at center, very vigorous plant with flowers that are resistant to late freeze damage, the plant is medium tall and erect clothed in broad leaflets of deep bluish green, foliage quality is generally good throughout the season, average height 30 inch / 76 cm, strong grower, great for cut-flower production, 1 week earlier with cutting than as Peony Red charm. (Bill Seidl / Don Hollingsworth, USA 2005).
Bare root size: 3/5 eye
30"
| Size | Weight |
| --- | --- |
| 3/5 eye | 250 gram |
Quantity per standard box:
Perennial Box Size (standard) = 24" x 16" x 9" or, 60cm x 40cm x 23cm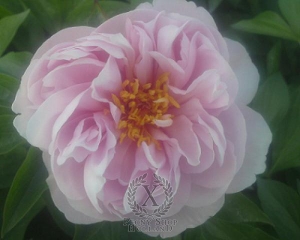 ---
Size (eye)
1+
3+
3/5

€

26.00

€

23.00
---
Please
login
to place orders and see Peony prices for all quantities.
Peony Pink Vanguard are Pink Peonies that are very early ready for cut-flower production. At Peony Shop Holland they are 1 week earlier ready for cutting then as Red Charm.
About Peony grower "Peony Shop Holland Peonyshop.com" Lutjebroek, the Netherlands
Peony Nursery Peony Shop Holland Peonyshop.com in this modern day exclusively concentrates on exceptional, very high good peonies. It hasn't always been this way. This corporation comes with a successful history starting in 1875 with Simon Scholten who also has been growing fruit for money.
During 2001 this company built their unique modern advertising-name & logo design "Peonyshop.com" and they started off putting attention on increasing exclusive peonies. Throughout the year 2002 this organization launched their own on-line peonyshop.com together with Peonies & Buxus. During 2003 Joshua Scholten started off on with breeding peonies. Than in 2004 this firm began to export peonies out of the Netherlands all-around Europe, Usa and additionally Asian countries.
Right now our peony nursery is specialized in maximizing and spreading exceptional, top quality peony roots which have been marketed and exported to around the world. Furthermore we even reduce peonies largely supporting the Dutch peony flower sector.
The particular things we pride:
The good quality of our products
The potential to export worldwide
Our own extensive assortment of pink peonies like Pink Vanguard
The peony nursery of substantial full potential pink peonies for cut-flower production
Growing Pink Vanguard a pink peony flower
The fall season is without a doubt the perfect period of time if you weigh in mind seeding a peony plant. The peonies are usually exceptionally long-term-lived plants staying around approximately fifty up to seventy yrs, so right after a person get the peonies selected and planted correctly, you will benefit from them for many years. Peonies have a preference for a sunlit position having a well-drained soil. A good air flow circulation available the the peony plant is mandatory. These kinds of surroundings assist this type of plants to prevent illness issues. To arrange a sowing hole designed for a bare-root peony plant, dig the soil into a level around 12-18". Use a garden fork to loosen the sides of the particular growing hole at the same time. It is very especially important and vital that the "eyes", or growth nodes, located nearby the bottom of the old stem, end up no greater than Two " under the ground area.