Peony Petticoat Flounce
Peony Petticoat Flounce is an Early Bomb Pink Peony Herbaceous Lactiflora, delicately speckled soft pink blossom with a touch of creamy white at base of each central petal tuft, deep green foliage, good cut flower, has good potential to become on the "good" list of well paid Peony cut-flowers, (Roy G. KLehm, USA, 1985).
Bare root size: 3/5 eye
34"
| Size | Weight |
| --- | --- |
| 1/2 eye | 50 gram |
Quantity per standard box:
Perennial Box Size (standard) = 24" x 16" x 9" or, 60cm x 40cm x 23cm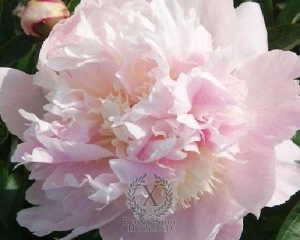 Sold Out! Available in years: 2024, 2025
Peony Petticoat Flounce is one of the many bomb Pink Peonies that we grow at Peony Nursery 'Peony Shop Holland'.
About Peony Nursery "Peony Shop Holland - Peonyshop.com"
Peony Nursery Peony Shop Holland Peonyshop.com right now exclusively centers on improving unique, very high prime quality peonies. It has not always been this way. The corporation owns an unique history starting up in 1875 together with Simon Scholten that also has been growing fresh vegetables for money.
In 2001 this organization formed their unique spanking new advertising-title & logo "Peonyshop.com" and consequently they started focusing on developing exclusive peonies. During 2002 this company opened up their shop on the internet", the: peonyshop together with Peonies & Buxus. In the year 2003 Joshua Scholten began with raising peonies. After that in year 2004 this institution started to foreign trade peonies originating from the Netherlands all around European countries, Usa and additionally Asian countries.
Nowadays our peony nursery is specialised in maximizing and multiplying exclusive, high-quality peony roots that happen to be distributed and released throughout the world. Furthermore we also cut peonies primarily helping the Dutch peony flower sector.
The most important things we pride:
The high-quality of our own products
Our capacity to export across the globe
Our broad collection peonies like Petticoat Flounce
Our crame of substantial full potential seedlings
Growing Pettycoat Flounce peony plants
The fall is definitely the correct period if you ponder planting a peony plant. These peony plants are extremely long-lived plants staying around close to fifty to a maximum of 70 yrs, so once you have them planted rightly, an individual will definitely have fun with them for a long time. Peonies opt for the sunny spot together with a well-drained ground. A high quality air circulation available the plant is also significant. All of these circumstances support this type of plants to avoid disease problems. To make a sowing hole for the purpose of a bareroot peony plant, dig the soil to a depth of 12-18inches. Work with a garden fork to loosen the sides of the particular seeding hole at the same time. It's actually pretty significant that the particular "eyes", or growing nodes, located near the bottom of the old stem, end up no greater than Two inches under the soil surface.