Peony Paul M. Wild
Peony 'Paul M. Wild' is a Late Midseason double ruby red Peony Lactiflora, large luscious velvety red flowers that are fully double and resist fading, an unusual hue for its season, good foliage, makes an upright bush, one of the favorite reds, (Wild, USA, 1964).
Bare root size: 3/5 eye
36"
| Size | Weight |
| --- | --- |
| 3/5 eye | 250 gram |
Quantity per standard box:
Perennial Box Size (standard) = 24" x 16" x 9" or, 60cm x 40cm x 23cm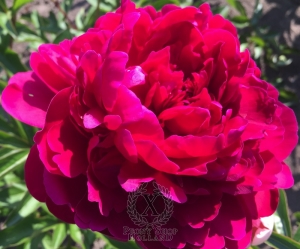 Peony 'Paul M. Wild' is one of the many red Peonies that we grow at Peony Nursery 'Peony Shop Holland'.
Regarding Peony growers "Peonyshop.com" Peony Shop Holland Lutjebroek
Peony farm Peonyshop.com at the moment primarily focuses on expanding exceptional, exceptional high quality peonies. It has not always been this situation. This firm comes with an unique back ground starting off in the year 1875 with the help of Simon Scholten that was growing greens for money.
During 2001 this corporation built their distinctive new advertising-name & logo design "Peonyshop.com" and they started concentrating on growing exclusive peonies. In the year 2002 this organization opened up their world wide web peonyshop together with Peonies & Buxus. Within 2003 Joshua Scholten started with raising peonies. Than in year 2004 the institution began to export peonies originating from the Netherlands throughout European countries, Usa and even Asian countries.
Nowadays our peony nursery is specialised in maximizing and developing special, high quality peony roots which can be marketed and released in many countries. Additionally the organization even reduce peonies mainly serving the Dutch peony flower industry.
The main things we pride:
The excellent quality of our product
Our potential to foreign trade across the globe
Our own enormous range peonies like Paul M. Wild
The peony crame of large full potential seedling peonies
Growing Paul M. Wild peony plants
Fall is undoubtedly the correct time if you think about planting peonies. Pretty much all peony plants happen to be amazingly long-term-lived plants beeing alive approximately 50 to a max of 70 yrs, so as soon as you'll get them selected and planted in the correct manner, an individual definitely will have fun with the peonies for years. Peonies have a preference for the shiny location together with a well-drained soil. A good air movement available the peonie can also be very important. These kind of settings help these plants to prevent sickness problems. To prepare the planting hole for the purpose of a bareroot peony plant, dig the ground to some depth of 12-18inch. Make use of a garden fork to release the sides of the growing hole as well. It is always really important and vital that the "eyes, ", or growing nodes, located close to the base of the old stem, end up no more than Two inch under the dirt surface area.