Peony Norma Volz
Peony Norma Volz is a Midseason full double White Peony Herbaceous Lactiflora, opens tawny blush, passing to a soft off-white, very large, fragrant, a grand show winner, massive blossoms, strong grower, dark green foliage, stems strong but may benefit by support against rain loading of the large flowers, average height 34 inch / 86 cm, awarded the Myron D. Bigger plaque at Minneapolis 1962 & American Peony Society Gold Medal Award 1987, (Volz, 1962, USA).
Bare root size: 3/5 eye
34"
| Size | Weight |
| --- | --- |
| 3/5 eye | 250 gram |
Quantity per standard box:
Perennial Box Size (standard) = 24" x 16" x 9" or, 60cm x 40cm x 23cm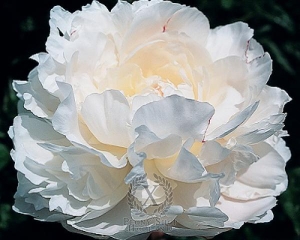 Sold Out! Available in years: 2025, 2027
Peony Norma Volz is one of the many special double White Peonies that we grow at Peony Nursery 'Peony Shop Holland'.
About peony nursery "Peonyshop.com" Peony Shop Holland
Peony Nursery Peony Shop Holland peonyshop.com in these days only centers on exclusive, great best quality peonies. It has not always been this way. The company owns an unique history opening in 1875 with Simon Scholten that had been growing greens for money.
In the year 2001 this company designed their unique brand-new marketing-label & logo "Peonyshop.com" and as a result they began focusing on growing unique peonies. Throughout 2002 the particular corporation opened their own world wide web peonyshop.com together with Peonies & Buxus. Within 2003 Joshua Scholten started with multiplying peonies. After that in 2004 the particular firm began to sell peonies from the Netherlands all-around Europe, Usa and additionally Asian countries.
Nowadays our peony nursery is specialized in expanding and spreading special, high quality peony roots which can be distributed and released in many countries. Aside from that we additionally reduce peonies primarily assisting the Dutch peony flower market.
The things we pride:
The high quality of our products
Our capability to foreign trade all over the world
Our own broad range of full double white peonies like Norma Volz
Our Peony Nursery of large full potential full double white Peonies for cut-flower production.
About Norma Volz a full double white Peony flower
Fall is undoubtedly the perfect period regarding planting peony plants. Nearly all peony plants are actually exceptionally long-term-lived plants staying alive close to 50 to a maximum of seventy years, so as soon as you'll have them placed rightly, a person will enjoy the plants for many, many years. The plants prefer the sunny location with a well-drained ground. A good air flow movement presented around the peonies can also be mandatory. These kinds of environs help peonies prevent illness problems. To make a planting hole for the purpose of a bare-root peony plant, dig the soil into a depth around 12-18inches. Work with garden tools to remove the sides of the seeding hole at the same time. It can be very crucial that the "eye", or growth, nodes, situated nearby the bottom of the old stem, end up no greater than 2 " under the ground surface area.