Peony Nick Shaylor
Peony Nick Shaylor is a Late double White Peony Herbaceous Lactiflora, full rose-type double with delicate buds that open well to display light blush pink blooms with red flecking, newly emerging foliage in the spring is a dark red, lovely plant, average heigh 36 inch / 90 cm, excellent cut flower, dark green foliage and stiff stems on this reliable bloomer, American Peony Society Gold Medal 1941 and 1972, (Allison, USA, 1931).
Bare root size: 3/5 eye
36"
| Size | Weight |
| --- | --- |
| 2/3 eye | 150 gram |
Quantity per standard box:
Perennial Box Size (standard) = 24" x 16" x 9" or, 60cm x 40cm x 23cm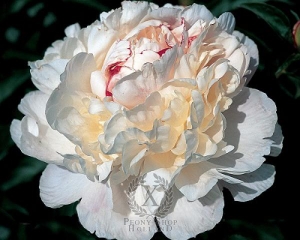 Sold Out! Available in years: 2026, 2028
Peony Nick Shaylor is one of the many special double White Peonies that we grow at Peony Nursery 'Peony Shop Holland'.
Regarding Peony Nursery "Peonyshop.com" Peony Shop Holland Lutjebroek
Peony Growers Peony Shop Holland peonyshop.com at this time only targets on improving exceptional, very high quality peonies. It hasn't always been this situation. This organization carries an broad background getting started in 1875 along with Simon Scholten that was growing greens for her income.
During 2001 this business enterprise put together their brand-new advertising and marketing-label & brand "Peonyshop.com" and after that they began centering on developing exceptional peonies. Within 2002 the firm launched their very own on-line peonyshop.com together with Peonies & Buxus. During the year 2003 Joshua Scholten started with multiplying peonies. Then in 2004 this company started to export peonies originating from the Netherlands throughout Europe, Usa and Asia.
Nowadays our peony nursery is specialized in increasing and spreading unique, good quality peony roots which can be bought and exported to internationally. Furthermore we even cut peonies largely helping the Dutch peony flower sector.
The main things we pride:
The top quality of our products
Our capability to foreign trade all over the world
Our own wide-ranging collection of double white peonies like Nick Shaylor
Our Peony Nursery of high full potential double white Peonies for cut-flower production.
About Nick Shaylor a double white Peony flower
The fall is definitely the correct moment if you think about growing peony plants. Pretty much all peonies happen to be unbelievably long-term-lived plants sticking around approximately 50 up to seventy yrs, so as soon as you'll have them placed in the correct manner, a person definitely will enjoy them for many years. Peonies have a preference for a bright location with a well-drained dirt. A good air movement available the peonies is also significant. These kind of circumstances allow this type of plants to avoid illness problems. To prepare the planting hole meant for a bare-root peony, dig the ground to the depth around 12-18inch. Utilize garden tools to release the edges of the particular growing hole at the same time. It's actually especially important and vital that the particular "eyes, ", or growing nodes, positioned close to the bottom of the old stem, end up no greater than Two inches beneath the ground area.