Peony Nice Gal
Peony Nice Gal is an Early semi-double Pink Peony Herbaceous Lactiflora, frosted deep rose-pink accentuated with tuft of golden stamens and deep rose stigmas, Peony flowers are formed near the foliage, average height 28 inch / 71 cm, (William H. Krekler, USA, 1965).
Bare root size: 3/5 eye
28"
Quantity per standard box:
Perennial Box Size (standard) = 24" x 16" x 9" or, 60cm x 40cm x 23cm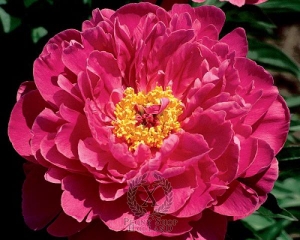 Sold Out! Available in years: 2024, 2026
Peony Nice Gal is one of the many Pink Peonies that we grow at Peony Nursery 'Peony Shop Holland'. Peony Nice Gal is a Paeonia Herbaceous Lactiflora breed by William H Krekler, Somerville, Ohio and Whit-tier, Peony breeder William H Krekler [1900-2002] started breeding Peonies with the purchase of Peony seedlings. He registered his first Peony in 1955 and he grew 1300 Peony varieties until 1977. He sold his entire Peony plantation to Peony Nursery 'Charles Klehm and Son Nursery'. Krekler's peonies were the result of human intervention.
About Peony growers "Peonyshop.com" Lutjebroek, the Netherlands
Peony nursery Peonyshop.com at the moment only focuses at expanding unique, exceptional quality peonies. It hasn't always been this situation. This corporation carries a rich history opening in 1875 accompanied by Simon Scholten that also had been growing greens for money.
In the year 2001 this organization built their distinctive brand-new advertising-name & brand "Peonyshop.com" and as a result they started putting attention on expanding exclusive peonies. Within the year 2002 the company opened up their own world wide web peonyshop with Peonies & Buxus. During 2003 Joshua Scholten started out with breeding peonies. Than in year 2004 this particular business organisation began to foreign trade peonies originating from the Netherlands all over Europe, America and also Asia.
Currently our peony nursery is specialised in growing and developing unique, premium quality peony roots that happen to be distributed and exported to globally. In addition we additionally cut peonies largely serving the Dutch peony flower market place.
The things we pride:
The excellent quality of our own products
Our capacity to foreign trade world wide
The best extensive range of pink peonies like Nice Gal
The peony nursery of large potential semi-double pink peonies for cut-flower production.
Growing Nice Gal a semi-double pink peony flower
The fall could be considered to be the correct time for seeding a peony. The peony plants tend to be extremely long-term-lived plants being alive approximately 50 to a maximum of seventy years, so shortly after you get the peonies planted in the correct manner, a person will definitely enjoy them for many, many years. Peonies have a preference for a sunlit position having a well-drained soil. A good air flow movement available the plant is very important. These kind of conditions help peonies avoid sickness problems. To organize a seeding hole for a bare-root peony plant, dig the dirt into a depth of 12-18inch. Utilize garden tools to release the sides of the growing hole at the same time. It is especially essential that the particular "eyes", or growth nodes, situated nearby the base of the old stem, end up no greater than Two " beneath the soil area.