Peony My Love
Peony My Love is a Late Midseason double White Peony Herbaceous Lactiflora, white, full double; many well rounded petals form a substantial flower, blush or mother-of-pearl white on opening, soon passing to all white, mildly fragrant, strong grower, of notably rapid increase, flowers well on young plants, stoutly erect, abundant flowering, a fine performer for landscape or cutting, average height 34 inch / 86 cm, first year bloomed before 1980, doubly hybrid, (Nippon Gold x Cytherea), (Hollingsworth, 1992, USA).
Bare root size: 3/5 eye
34"
Quantity per standard box:
Perennial Box Size (standard) = 24" x 16" x 9" or, 60cm x 40cm x 23cm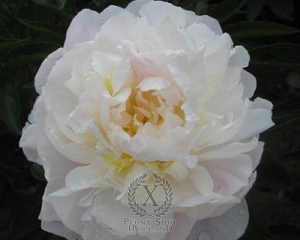 Sold Out! Available in years: 2024, 2026
Peony My Love is one of the many double White Peonies that we grow at Peony Nursery 'Peony Shop Holland'.
About Peony growers "Peonyshop.com" Peony Shop Holland, Lutjebroek, the Netherlands
Peony Grower Peony Shop Holland Peonyshop.com at the moment primarily targets on improving exceptional, extraordinary high quality peonies. It hasn't always been this way. The company carries a successful background getting started in the year 1875 together with Simon Scholten who also had been growing vegetables for income.
In 2001 the corporation produced their distinctive innovative advertising and marketing-label & logo design "Peonyshop.com" and after that they started off concentrating on growing exclusive peonies. Throughout the year 2002 typically the firm opened their very own online peonyshop.com together with Peonies & Buxus. Within 2003 Joshua Scholten started with breeding peonies. Then in 2004 the particular organization began to foreign trade peonies from the Netherlands throughout Europe, America and even Asian countries.
Currently our own peony nursery is specialized in maximizing and spreading exceptional, premium quality peony roots which have been sold and exported to in many countries. Furthermore the company even reduce peonies mainly serving the Dutch peony flower industry.
The particular things we pride:
The top quality of our product
The ability to export around the world
Our wide-ranging assortment peonies like My Love
The Peony nursery of substantial full potential double white Peonies for cut-flower production.
Growing My Love a double white Peony flower
The fall season is undoubtedly the perfect time for planting peonies. The peony plants have proven to be incredibly long-term-lived plants sticking around up to 50 to 70 years, so as soon you'll have them selected and planted in the correct manner, a person will benefit from the plants for many years. Peonies opt for some sort of bright area having a well-drained ground. A good quality air movement presented around the peonies is also important. All these environments allow these plants to avoid illness issues. To make a sowing hole for a bare-root peony plant, dig the soil to some level around 12-18". Utilize a garden fork to remove the sides of the particular seeding hole at the same time. It's always very essential that the "eye", or growing nodes, located nearby the bottom of the old stem, end up no greater than 2 " under the ground surface area.