Peony Mrs. Franklin D. Roosevelt
Peony Mrs. Franklin D. Roosevelt is a Midseason double light Pink Peony Herbaceous Lactiflora, fragrant, a soft shell pink with incurved petals in rose form, the size, color and form combine to make this a most attractive flower, average height 28 inch / 71 cm, American Peony Society Best in Show - Grand Champion 1984 and American Peony Society Gold Medal winner 1948, (Franklin, USA 1932).
Bare root size: 3/5 eye
28"
| Size | Weight |
| --- | --- |
| 3/5 eye | 250 gram |
Quantity per standard box:
Perennial Box Size (standard) = 24" x 16" x 9" or, 60cm x 40cm x 23cm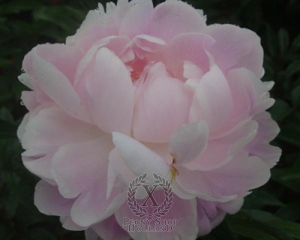 Sold Out! Available in years: 2024, 2025
Peony Mrs. Franklin D. Roosevelt is one the many special double light pink Peonies that we grow at Peony Nursery 'Peony Shop Holland'.
Regarding peony farm "Peonyshop.com" Peony Shop Holland
Peony Grower Peony Shop Holland Peonyshop.com at this time specifically centers on expanding exceptional, outstanding high-quality peonies. It hasn't always been this way. The corporation has an exceptional back ground starting up in the year 1875 together with Simon Scholten that also had been growing vegetables for her full time income.
During 2001 this company manufactured their own new-found advertising and marketing-title & logo design "Peonyshop.com" and consequently they started off centering on increasing unique peonies. Throughout 2002 the particular organization opened their shop on the web", the: peonyshop.com with Peonies & Buxus. In the year 2003 Joshua Scholten began with multiplying peonies. After that in 2004 the business started to export peonies originating from the Netherlands all over Europe, America and additionally Asia.
Currently our own peony nursery is focused on expanding and spreading special, premium quality peony roots that happen to be offered for sale and released world wide. Additionally the particular organization additionally reduce peonies predominantly serving the Dutch peony flower sector.
The particular things we pride:
The high-quality of our products
The capacity to foreign trade around the world
The best broad range of double light pink peonies like Mrs. Franklin D. Roosevelt
The peony nursery of large full potential double light pink Peonies for cut-flower production.
Growing Mrs. Franklin D. Roosevelt a double light pink Peony flower
Fall has considered to be the correct moment if you ponder growing a peony plant. A lot of peonies are usually incredibly long-term-lived plants staying alive approximately 50 up to 70 years, so once you get the peonies selected and planted rightly, a person is going to enjoy them for many, many years. Peonies prefer the shiny position with a well-drained ground. A good quality air flow circulation available the peonies is also essential. All these surroundings support peonies avoid sickness issues. To organize a seeding hole for a bare-root peony, dig the soil into a depth around 12-18inches. Utilize garden tools to remove the edges of the seeding hole at the same time. It is very pretty important and vital that the particular "eyes", or growing nodes, positioned near the base of the old stem, end up no more than 2 inch beneath the soil surface.