Peony Mrs. Frank Beach
Peony Mrs. Frank Beach is a Midseason double rose-type White Peony Herbaceous Lactiflora, a creamy white flat flower, strong stems, average 33 inch / 83 cm, very fragrant, (Brand, 1925, USA).
Bare root size: 3/5 eye
33"
| Size | Weight |
| --- | --- |
| 3/5 eye | 250 gram |
Quantity per standard box:
Perennial Box Size (standard) = 24" x 16" x 9" or, 60cm x 40cm x 23cm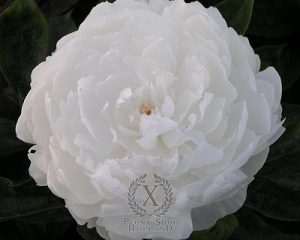 Sold Out! Available in years: 2025, 2027
Peony Mrs. Frank Beach is one of the many double rose-type White Peonies that we grow at 'Peony Shop Holland'.
Regarding Peony Nursery "Peonyshop.com" Peony Shop Holland, Lutjebroek, the Netherlands
Peony Grower Peony Shop Holland Peonyshop.com at this point only targets at growing exclusive, extraordinary leading peonies. This was not always the main situation. This particular organization carries a broad back ground starting off in 1875 accompanied by Simon Scholten who was growing fruit for money.
In the year 2001 this firm produced their new-found marketing and advertising-label & logo design "Peonyshop.com" and as a result they began centering on expanding unique peonies. Throughout 2002 the corporation opened their very own shop on the internet", the: peonyshop.com with Peonies & Buxus. Within 2003 Joshua Scholten started off on with raising peonies. After that in year 2004 this corporation began to sell peonies originating from the Netherlands throughout European countries, America and also Asia.
Nowadays our peony nursery is specialized in expanding and developing unique, top quality peony roots which can be marketed and exported to in many countries. Furthermore the particular firm additionally cut peonies predominantly serving the Dutch peony flower market.
The main things we pride:
The excellent quality of our products
The capability to foreign trade all over the globe
The best enormous range of double white peonies like Mrs. Frank Beach
The Peony nursery of large potential double white Peonies for cut-flower production.
About growing Mrs. Frank Beach a double white Peony flower
The fall is really the ideal period of time for planting peony plants. All the peony plants are actually unbelievably long-term-lived plants being alive nearly 50 to 70 years, so right after an individual get them placed rightly, you will definitely have fun with them for many years. The plants have a preference for some sort of sunlit place with a well-drained ground. A good quality air circulation available the plant is significant. All these surroundings help peonies avoid disease issues. To make the planting hole designed for a bare-root peony, dig the ground to some depth around 12-18inch. Work with a garden fork to loosen the edges of the particular planting hole as well. It is always really significant that the particular "eye", or growing nodes, situated close to the base of the old stem, end up no greater than 2 inches below the soil area.