Peony Mother's Choice
Peony Mother's Choice is a Late Midseason double White Peony herbaceous Lactiflora, creamy white large flowers, fragrant, strong stems, average height 34 inch / 86 cm, vigorous grower, good for cut-flower production, American Peony Society Gold Medal 1994, (Glasscock, USA, 1950).
Bare root size: 3/5 eye
34"
| Size | Weight |
| --- | --- |
| 3/5 eye | 250 gram |
Quantity per standard box:
Perennial Box Size (standard) = 24" x 16" x 9" or, 60cm x 40cm x 23cm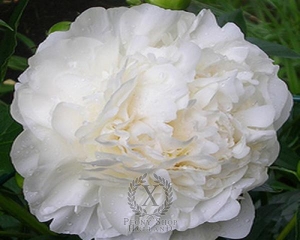 Sold Out! Available in years: 2024, 2025
Peony Mother's Choice is one of the many double White Peonies that we grow at Peony Nursery 'Peony Shop Holland'.
Regarding Peony growers "Peonyshop.com" Peony Shop Holland Lutjebroek
Peony Growers Peony Shop Holland Peonyshop.com at this point specifically focuses on developing unique, exceptional leading quality peonies. It has not always been this way. This specific organization owns an unique history starting in 1875 with Simon Scholten who was basically growing vegetables and fruits for her income.
During 2001 this business enterprise created their own innovative advertising-label & logo "Peonyshop.com" and consequently they started focusing on improving exclusive peonies. In the year 2002 the corporation launched their very own world wide web peonyshop.com with Peonies & Buxus. Throughout 2003 Joshua Scholten began with multiplying peonies. After that in 2004 the institution started to foreign trade peonies of the Netherlands throughout Europe, Usa plus Asia.
Right now our own peony nursery is specialized in growing and spreading special, high-quality peony roots that are offered for sale and exported to throughout the world. Furthermore we additionally cut peonies mainly assisting the Dutch peony flower marketplace.
The particular things we pride:
The premium quality of our products
Our potential to export international
Our wide range of double white peonies like Mothers Choice
Our Peony Nursery of large full potential double white Peonies for cut-flower production.
Growing Mothers Choice a double white peony flower
Fall is without a doubt the right period of time for seeding a peony plant. These peony plants are extremely long-term-lived plants sticking around close to 50 to a maximum of 70 yrs, so right after you'll get them placed in the correct way, an individual will certainly enjoy them for years and years. Peonies prefer some sort of bright location together with a well-drained soil. A high quality air flow movement presented around the plant can also be significant. These conditions help peonies stay away from illness issues. To organize the planting hole intended for a bare-root peony, dig the soil to some level around 12-18inches. Utilize a garden fork to loosen the edges of the growing hole at the same time. It's actually especially essential that the "eyes, ", or growth, nodes, positioned near the base of the old stem, end up no more than 2 " under the soil area.