Peony Moon River
Peony 'Moon River' is a Midseason double Pink Peony Herbaceous Lactiflora, large, finely formed, deep cream double with luminous pink blush, full petalled flowers carried on short, slightly fragrant, strong stems with dark green foliage, average height 32 inch / 81 cm, (Carl Klehm, USA, IL, 1972).
Bare root size: 3/5 eye
28"
| Size | Weight |
| --- | --- |
| 3/5 eye | 250 gram |
Quantity per standard box:
Perennial Box Size (standard) = 24" x 16" x 9" or, 60cm x 40cm x 23cm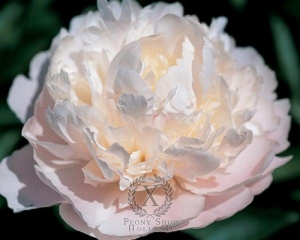 Sold Out! Available in years: 2023, 2024
Peony 'Moon River' is one of the many Pink Peonies that we grow at Peony Nursery 'Peony Shop Holland'.
About Peony Grower Peony Shop Holland "Peonyshop.com"
Peony Farm Peony Shop Holland peonyshop.com at the moment specifically focuses on getting exclusive, exceptional leading peonies. This very specific emphasis was not always the main case. This specific firm has a successful history starting up in 1875 together with Simon Scholten who also was basically growing fruit for money.
In the year 2001 this firm formed their brand-new marketing and advertising-label & brand "Peonyshop.com" and as a result they began concentrating on growing exceptional peonies. In 2002 typically the firm opened their very own online peonyshop together with Peonies & Buxus. In 2003 Joshua Scholten began with breeding peonies. Than in year 2004 the particular institution started to export peonies originating from the Netherlands all-around European countries, Usa and also Asia.
Right now our own peony nursery is focused on expanding and spreading exclusive, premium quality peony roots which have been offered for sale and released world wide. Furthermore we also reduce peonies primarily helping the Dutch peony flower sector.
The particular things we pride:
The top quality of our own products
Our capability to foreign trade around the world
The best broad collection of pink peonies like Moon River
The peony nursery of high potential pink Peonies for cut-flower production.
About Moon River a pink peony flower
Fall is really the perfect period for planting peony plants. All peony plants have proven to be extremely long-term-lived plants staying alive close to fifty to a max of 70 yrs, so as soon as an individual have them planted in the correct manner, a person will definitely have fun with the peonies for years. The plants have a preference for the sunny place with a well-drained ground. A good air circulation available the the peony plant is also required. These special environs assist peonies stay away from disease issues. To arrange the sowing hole intended for a bare-root peony, dig the soil into a depth of 12-18". Make use of garden tools to remove the edges of the particular growing hole as well. It is very significant that the "eyes, ", or growth nodes, located near the base of the old stem, end up no greater than 2 " below the dirt surface.