Peony Montezuma
Peony Montezuma is an Early Midseason single to semi-double red Peony Herbaceous Hybrid, bright crimson goblets with two rows of shining rounded petals, tall heavy stems, average height 40 inch / 101.5 cm. This group [Albiflora x Lobata] contains many beautiful pink and red tones, (A.P. Saunders, USA, 1932).
Bare root size: 3/5 eye
40"
| Size | Weight |
| --- | --- |
| 1/2 eye | 50 gram |
| 3/5 eye | 250 gram |
Quantity per standard box:
Perennial Box Size (standard) = 24" x 16" x 9" or, 60cm x 40cm x 23cm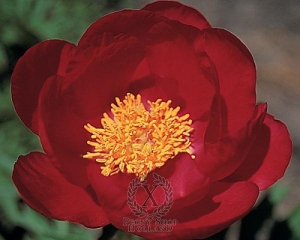 Sold Out! Available in years: 2025, 2027
Peony Montezuma is one of the many Red Peonies that we grow at Peony Nursery 'Peony Shop Holland'.
Professor A. P. Saunders Hybrids
Peony Montezuma has been breed by Professor A.P. Saunders a chemistry Professor at Hamilton College, Clinton, New York during the early part of the 20th century, Professor Saunders is today considered the "Father" of the modern hybrid peony. He carried out extensive, scientifically based breeding programs with both herbaceous and Tree Peonies with the assistance of friends at the New York Botanical Garden. His Tree Peony work centered on the intercrossing of two species, the yellow flowered P. lutea and the orange-red P. delavayi with existing classical Japanese Moutan varieties. The resultant progeny produced a range of flower colors from lemon and golden yellow to ivory and pearl shades frequently blended and suffused with purple and pink, plus a few strawberry-red cultivars. In all cases, the flowers are displayed above attractive cut-leaf foliage. Eventually his daughter, Silvia took over her father's nursery, and after several decades Professor Saunders hybrids are still in great demand by gardeners worldwide.
Regarding peony farm "Peonyshop.com" Peony Shop Holland
Peony Nursery Peony Shop Holland peonyshop.com right now only targets at unique, great high-quality peonies. This particular emphasis has not been always the situation. This organization has an exceptional history opening in the year 1875 with Simon Scholten who also was basically growing fresh vegetables for living.
During the year 2001 this company designed their own innovative marketing and advertising tactics-title & logo design "Peonyshop.com" and as a result they started focusing on growing unique peonies. Throughout 2002 this company launched their own world wide web peonyshop.com together with Peonies & Buxus. Throughout 2003 Joshua Scholten started off on with raising peonies. Than in 2004 this business began to export peonies out of the Netherlands all-around European countries, America and additionally Asian countries.
Nowadays our peony nursery is specialized in growing and developing unique, high-quality peony roots which can be offered for sale and exported to world-wide. Additionally we additionally reduce peonies mainly serving the Dutch peony flower industry.
The most important things we pride:
The high quality of our product
Our potential to foreign trade around the globe
The best extensive range of red peonies like Montezuma
The peony nursery of large potential red peonies for cut-flower production.
About Montezuma a red peony flower
The fall happens to be the perfect moment if you ponder growing a peony plant. Pretty much all peonies are generally incredibly long-term-lived plants sustaining up to 50 to seventy yrs, so right after a person have the peonies planted rightly, a person will definitely enjoy the plants for years. Peonies like a shiny spot with a well-drained ground. A high quality air flow movement available around the plant is also essential. These types of environments assist this type of plants to avoid sickness issues. To prepare a planting hole intended for a bare-root peony plant, dig the soil to a depth of 12-18". Utilize a garden fork to release the sides of the seeding hole as well. It is usually really essential that the particular "eyes", or growth, nodes, located nearby the bottom of the old stem, end up no greater than Two inch below the dirt area.