Peony Miss Congeniality
Peony Miss Congeniality is a Late Midseason Japanese-type Pink Peony Herbaceous Lactiflora, pink, nice combination of cerise pink and softest salmon cerise with red stigmas, nice outer guard petals edged in softest cerise, 3-4 buds per stem, no stamens or pollen, reliable, good amount of bloom, slightly fragrant, average height 36 inch / 91.5 cm, first bloomed 1985, (Roy G. Klehm, USA, 2003).
Bare root size: 3/5 eye
36"
Quantity per standard box:
Perennial Box Size (standard) = 24" x 16" x 9" or, 60cm x 40cm x 23cm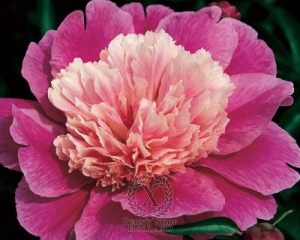 Sold Out! Available in years: 2026
Peony Miss Congeniality is one of the many special Pink multi-color Peonies that we grow at Peony Nursery 'Peony Shop Holland'.
About Peony Nursery "Peonyshop.com" Peony Shop Holland, Lutjebroek, the Netherlands
Peony Grower Peony Shop Holland Peonyshop.com at this point exclusively centers at getting exceptional, good high quality peonies. It hasn't always been this situation. This firm carries an unique history getting started in the year 1875 with Simon Scholten who had been growing vegetables and fruits for living.
In 2001 this specific company built their unique innovative marketing-title & logo "Peonyshop.com" and consequently they started off centering on increasing exceptional peonies. Within 2002 the particular company launched their very own shop on the internet", the: peonyshop.com together with Peonies & Buxus. Within the year 2003 Joshua Scholten started out with multiplying peonies. After that in year 2004 this company began to foreign trade peonies out of the Netherlands throughout European countries, America and Asian countries.
Currently our own peony nursery is specialized in increasing and multiplying unique, good quality peony roots that happen to be bought and exported to world wide. Additionally we also reduce peonies primarily serving the Dutch peony flower industry.
The most important things we pride:
The excellent quality of our own products
Our capacity to export all over the globe
Our new substantial range of pink peonies like Miss Congeniality
Our Peony Nursery of large full potential pink Peonies for cut-flower production.
About growing Miss Congeniality a pink peony flower
The fall is certainly the correct time regarding planting peony plants. Pretty much all peonies happen to be incredibly long-term-lived plants sticking around approximately fifty to a maximum of 70 yrs, so once a person have them placed in the right way, an individual definitely will benefit from the plants for many, many years. The plants like the sunlit spot having a well-drained ground. A high quality air flow circulation available around the plant can also be important and vital. These kinds of milieu allow these plants to prevent illness problems. To prepare a planting hole for a bare-root peony plant, dig the soil to some depth around 12-18inches. Use a garden fork to loosen the edges of the particular growing hole at the same time. It can be very important and vital that the particular "eyes", or growing nodes, located near the base of the old stem, end up no more than 2 inches under the soil surface.