Peony Mikado
Peony Mikado is a Late Japanese red Peony Herbaceous Lactiflora, waved and cupped petals of dark rosy crimson; thick staminodes, dark rose red, edged and tipped in yellow; pale carpels, very floriferous, good performer, erect stems, Average height 40 inch / 101.5 cm. A very decorative garden variety which was introduced to this country by the Japanese exhibit at the Chicago World's Fair in 1893, (unknown, 1908, Japan,).
Bare root size: 3/5 eye
40"
Quantity per standard box:
Perennial Box Size (standard) = 24" x 16" x 9" or, 60cm x 40cm x 23cm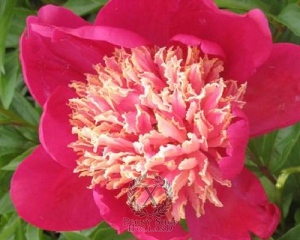 Sold Out! Available in years: 2024, 2026
Peony Mikado is one of the many Red Peonies that we grow at Peony Nursery 'Peony Shop Holland'.
Regarding peony farm "Peonyshop.com" Peony Shop Holland Lutjebroek
Peony Growers Peony Shop Holland peonyshop.com in this modern day only centers at increasing exclusive, good top quality peonies. It has not always been this situation. This particular organization owns an unique history with the starting point in the year 1875 with Simon Scholten that also was growing vegetables for her full time income.
In 2001 the particular business constructed their new-found advertising-label & logo design "Peonyshop.com" and consequently they started off focusing on increasing exclusive peonies. During the year 2002 the organization launched their very own world wide web peonyshop with Peonies & Buxus. Throughout the year 2003 Joshua Scholten started off on with multiplying peonies. Than in 2004 this particular company began to distribute peonies out of the Netherlands all-around European countries, Usa and also Asian countries.
Right now our own peony nursery is focused on improving and increasing the number of special, high quality peony roots which have been sold and exported to throughout the world. Aside from that we also cut peonies mainly helping the Dutch peony flower market.
The things we pride:
The superior quality of our products
Our ability to foreign trade all over the world
Our broad assortment of red peonies like Mikado
The peony nursery of high full potential red Peonies for cut-flower production.
About Mikado a red peony flower
The fall season is truly the ideal period of time regarding growing a peony plant. All the peony plants are generally incredibly long-term-lived plants functioning for up to 50 to seventy yrs, so as soon as you'll get the peonies placed in a correct manner, a person will definitely get pleasure from the peonies for years. The plants opt for some sort of sunlit area having a well-drained soil. A good air circulation presented around the peonie is important and vital. These kind of environs allow this type of plants to avoid sickness issues. To prepare the planting hole intended for a bareroot peony plant, dig the dirt into a depth of 12-18inches. Work with garden tools to loosen the edges of the particular seeding hole at the same time. It's always pretty critical that the "eye", or growth, nodes, situated near the bottom of the old stem, end up no greater than Two inches under the ground area.