Peony Marshmallow Tart
Peony Marshmallow Tart is a Midseason double White Peony Herbaceous Lactiflora, white, creamy white double bomb, white marshmallow puffball-like blooms, the plant has a short growth habit, good stem strength, deep green foliage, average height 24 inch / 61 cm, first bloomed 1965, (Klehm, USA, 1985).
Bare root size: 3/5 eye
24"
| Size | Weight |
| --- | --- |
| 3/5 eye | 250 gram |
Quantity per standard box:
Perennial Box Size (standard) = 24" x 16" x 9" or, 60cm x 40cm x 23cm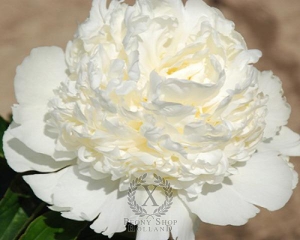 Sold Out! Available in years: 2025, 2027
Peony Marshmallow Tart is one of the many special double White Peonies that we grow at Peony Nursery 'Peony Shop Holland'.
Regarding peony farm "Peonyshop.com" Peony Shop Holland Lutjebroek
Peony farm Peony Shop Holland Peonyshop.com in this modern day exclusively targets at developing exceptional, high good quality peonies. This specific emphasis has not been always the situation. This company carries a successful history getting started in the year 1875 with the help of Simon Scholten who also was growing veggies for an income.
In 2001 this firm created their innovative promotion-label & logo design "Peonyshop.com" and after that they began focusing on developing unique peonies. In 2002 the firm launched their world wide web peonyshop.com with Peonies & Buxus. Throughout 2003 Joshua Scholten started off on with raising peonies. Than in year 2004 the organization began to market peonies out of the Netherlands all-around Europe, America and also Asia.
Nowadays our own peony nursery is specialized in improving and spreading exceptional, top quality peony roots that can be distributed and released throughout the world. Furthermore we additionally cut peonies largely assisting the Dutch peony flower market place.
The most important things we pride:
The excellent quality of our products
Our potential to foreign trade world-wide
Our own wide-ranging collection of double white peonies like Marshmallow Tart
Our Peony Nursery of high potential double white Peonies for cut-flower production.
About Marshmallow Tart a double white Peony flower
The fall is certainly the perfect moment if you think about planting peony plants. Pretty much all peony plants happen to be extremely long-lived plants long lasting close to 50 to a maximum of 70 yrs, so shortly after you have the particular peonies placed rightly, an individual is going to enjoy the peonies for years. Peonies prefer some sort of shiny position having a well-drained soil. A good air movement presented around the the peony plant is also essential. These special settings help this type of plants to stay away from illness issues. To organize a seeding hole designed for a bare-root peony, dig the dirt into a level of 12-18inches. Utilize a garden fork to release the sides of the growing hole at the same time. It can be pretty significant that the particular "eyes", or growing nodes, located nearby the base of the old stem, end up no more than Two inches under the soil surface area.