Peony Marshmallow Button
Peony Marshmallow Button is a Midseason bomb White Peony Herbaceous Lactiflora, white, pure white, ball-shaped blossoms with up curving guard petals, ball center is formed by white petals with a yellow cast emanating from its base, fragrant, good amount of bloom and substance, excellent luxurious dark green foliage, short growth habit, average 24 inch / 61 cm, strong grower. (Roy G. Klehm, 1986, USA).
Bare root size: 3/5 eye
24"
| Size | Weight |
| --- | --- |
| 3/5 eye | 250 gram |
Quantity per standard box:
Perennial Box Size (standard) = 24" x 16" x 9" or, 60cm x 40cm x 23cm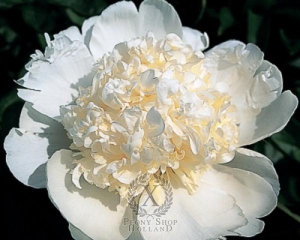 ---
Size (eye)
1+
3+
3/5

€

15.00

€

12.00
---
Please
login
to place orders and see Peony prices for all quantities.
Peony Marshmallow Button is one of the many bomb White Peonies that we grow at Peony Nursery 'Peony Shop Holland'.
Regarding peony nursery "Peonyshop.com" Peony Shop Holland
Peony Farm Peony Shop Holland peonyshop.com at the moment specifically concentrates at expanding exceptional, very high superior quality peonies. It hasn't always been this situation. This specific company comes with an extensive history getting started in the year 1875 together with Simon Scholten who has been growing vegetables and fruits for an income.
In the year 2001 this organization generated their new-found selling-name & logo design "Peonyshop.com" and after that they started centering on expanding exclusive peonies. Within 2002 this organization launched their own on-line peonyshop.com together with Peonies & Buxus. Within the year 2003 Joshua Scholten started with breeding peonies. Then in 2004 this business organization began to foreign trade peonies out of the Netherlands throughout Europe, Usa and Asian countries.
Currently our own peony nursery is specialized in increasing and spreading unique, high-quality peony roots that are offered for sale and exported to anywhere in the world. In addition this firm also reduce peonies mainly supporting the Dutch peony flower sector.
The main things we pride:
The good quality of our own products
Our capability to export international
Our own extensive assortment of white peonies like Marshmallow Button
The peony nursery of large full potential double white peonies for cut-flower production
About Marshmallow Button a double white peony flower
The fall is truly the ideal time if you weigh in mind growing peonies. Almost all peony plants are generally unbelievably long-term-lived plants lasting close to 50 to a max of seventy years, so right after you'll have the particular peonies placed in the correct manner, an individual will definitely benefit from them for years. Peonies have a preference for the sunlit location with a well-drained soil. A high quality air circulation available the peonies is also crucial. All these conditions support peonies avoid disease issues. To arrange a sowing hole meant for a bare-root peony plant, dig the soil to a level around 12-18inches. Make use of a garden fork to loosen the edges of the planting hole as well. It can be extremely important that the "eye", or growing nodes, situated close to the bottom of the old stem, end up no more than 2 inches below the ground area.