Peony Marie Lemoine
Peony Marie Lemoine is a Late double White Peony Herbaceous Lactiflora, lemon-white with a trace of crimson on edges of a few petals and whole flower strongly suffused with yellow from hidden stamens and staminodes; develops to a large, globular form, pure white, with a few yellow petaloids in the collar, fragrant, strong stems with dark green foliage, average height 30 inch / 76 cm. (Calot, France, 1869).
Bare root size: 3/5 eye
30"
Quantity per standard box:
Perennial Box Size (standard) = 24" x 16" x 9" or, 60cm x 40cm x 23cm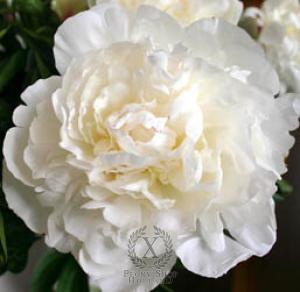 Sold Out! Available in years: 2024, 2026
Peony Marie Lemoine is one of the Classic double white Peonies that we grow at Peony Nursery 'Peony Shop Holland'.
About Peony Farm "Peonyshop.com" Peony Shop Holland
Peony Growers Peony Shop Holland peonyshop.com now a days exclusively concentrates at improving unique, exceptional high-quality peonies. It hasn't always been this situation. This corporation carries a rich background opening in 1875 with Simon Scholten who also has been growing greens for money.
In 2001 this specific company manufactured their distinctive new advertising and marketing-name & brand "Peonyshop.com" and after that they started concentrating on improving exceptional peonies. During 2002 the particular corporation launched their own shop on the web", the: peonyshop.com together with Peonies & Buxus. In the year 2003 Joshua Scholten started out with breeding peonies. After that in year 2004 this business organization started to distribute peonies of the Netherlands all around European countries, America plus Asia.
Currently our peony nursery is focused on increasing and developing exceptional, good quality peony roots that can be marketed and exported to everywhere around the world. Aside from that the particular firm even cut peonies mainly helping the Dutch peony flower market.
The main things we pride:
The good quality of our products
The potential to export across the globe
The best broad range of double white peonies like Marie Lemoine
The Peony nursery of large full potential double white Peonies for cut-flower production
About Marie Lemoine a double white peony flower
Fall is actually the ideal period of time if you consider growing a peony. The peonies have proven to be extremely long-lived plants being alive up to 50 up to 70 years, so as soon you'll have them placed in the correct manner, a person will benefit from the plants for a long time. These plants prefer some sort of sunny spot with a well-drained ground. A high quality air flow circulation presented around the peonies is mandatory. These circumstances allow peonies avoid illness problems. To prepare a sowing hole intended for a bare-root peony plant, dig the ground to the level of 12-18". Utilize a garden fork to release the sides of the particular seeding hole as well. It is always really important that the particular "eyes, ", or growth nodes, positioned close to the base of the old stem, end up no greater than 2 " beneath the ground surface.