Peony Majesty's Imperial
Peony Majesty's Imperial is an Anemone white Peony Herbaceous Hybrid. Guards creamy yellow, center petalodes yellow, some blooms with petals emerging from the center. Flower size 5 inch / 13 cm. Has Average 4 sparsely hairy green carpels with normal shaped pink stigmas. Stamens transformed. Has no pollen or seeds. 1 Flower per stem. Upright self supporting growth habit. Foliage burgundy to green on emergence. Average height 25 inch / 66 cm. First year bloomed 2012, first year propagated 2013. Swenson Garden's seedling No. RAHS-01. Parentage: Unnamed Anderson seedlings. (Anderson / Swenson Gardens, 2017, USA).
Bare root size: 3/5 eye
25"
Quantity per standard box:
Perennial Box Size (standard) = 24" x 16" x 9" or, 60cm x 40cm x 23cm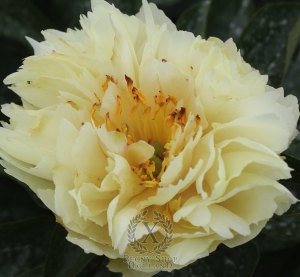 Sold Out! Available in years: 2024, 2026
Peony Majesty's Imperial is one of the many white Peonies that we grow at Peony Nursery Peony Shop Holland.
Regarding peony farm "Peonyshop.com" Peony Shop Holland Lutjebroek
Peony Grower Peony Shop Holland Peonyshop.com in this modern day solely targets on developing exclusive, very high top quality peonies. It hasn't always been this way. This specific firm owns an broad back ground starting off in the year 1875 along with Simon Scholten that was basically growing veggies and fruit for money.
In the year 2001 the firm formed their spanking new advertising and marketing-title & logo "Peonyshop.com" and consequently they began centering on increasing exclusive peonies. Throughout 2002 the corporation launched their shop on the internet", the: Peony Shop Holland together with Peonies & Buxus. Within the year 2003 Joshua Scholten began with multiplying peonies. After that in year 2004 this particular company started to distribute peonies from the Netherlands all over Europe, America plus Asia.
Currently our peony nursery is specialized in improving and increasing the number of unique, top quality peony roots that can be offered for sale and exported to everywhere around the world. Furthermore we also cut peonies mainly helping the Dutch peony flower industry.
The main things we pride:
The top quality of our product
Our capacity to export world-wide
The best enormous assortment of white peonies like Majesty's Imperial
The peony nursery of high potential white peonies for cut-flower production.
Growing Majesty's Imperial a white peony flower
The fall happens to be the best time if you think about growing a peony. Nearly all peony plants are usually extremely long-term-lived plants being alive nearly fifty up to 70 yrs, so as soon as a person get them placed in the correct manner, you will definitely have fun with the plants for a long time. Peonies like the sunlit location together with a well-drained soil. A good quality air flow circulation available around the peony is also mandatory. These particular environments help this type of plants to stay away from sickness issues. To organize the planting hole for a bare-root peony, dig the ground to some level of 12-18inches. Use garden tools to remove the edges of the particular growing hole as well. It truly is very essential that the "eyes, ", or growing nodes, positioned close to the bottom of the old stem, end up no greater than 2 inches beneath the dirt surface area.