Peony Madame De Verneville
Peony Madame De Verneville is an Early Midseason double bomb White Peony Herbaceous Lactiflora, white, center crown of white with a few crimson flecks and a glow of yellow from the inner base, very fragrant, heirloom variety with a pleasant rose scent, average height 31 inch / 79 cm. (Crousse, France, 1885).
Bare root size: 3/5 eye
31"
| Size | Weight |
| --- | --- |
| 2/3 eye | 150 gram |
Quantity per standard box:
Perennial Box Size (standard) = 24" x 16" x 9" or, 60cm x 40cm x 23cm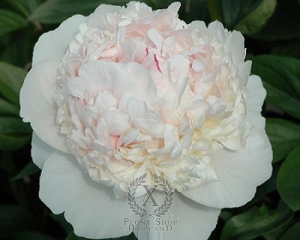 ---
Size (eye)
1+
3+
2/3

€

17.00

€

14.00
---
Please
login
to place orders and see Peony prices for all quantities.
Peony Madame De Verneville (Paeonia Madame De Verneville) Peonies are one of the many White Peonies that are being grown at the Dutch Peony Nursery of 'Peony Shop Holland'.
Regarding peony farm "Peonyshop.com" Peony Shop Holland
Peony farm Peonyshop.com Peony Shop Holland at this time specifically focuses on building unique, good best quality peonies. This hasn't been always the main case. This corporation comes with a rich back ground starting in the year 1875 together with Simon Scholten who also has been growing vegetables for money.
In the year 2001 the firm made up their unique modern marketing-name & brand "Peonyshop.com" and after that they began putting attention on expanding unique peonies. Throughout the year 2002 this business launched their very own world wide web peonyshop.com together with Peonies & Buxus. Within the year 2003 Joshua Scholten began with multiplying peonies. After that in year 2004 the particular corporation started to distribute peonies of the Netherlands all around Europe, Usa and also Asia.
Currently our own peony nursery is focused on maximizing and multiplying special, premium quality peony roots which have been distributed and exported to internationally. Furthermore we also cut peonies largely assisting the Dutch peony flower market place.
The things we pride:
The top quality of our own product
Our capacity to export international
Our own extensive assortment of white peonies like Madame De Verneville
The peony nursery of large potential double white Peonies for cut-flower production.
About growing Madame De Verneville a double white peony
The fall season is usually the perfect time if you weigh in mind planting peonies. The peonies are actually extremely long-lived plants staying around approximately fifty up to seventy yrs, so soon after an individual have the particular peonies planted in the correct manner, an individual definitely will get pleasure from them for years. These plants like the bright area with a well-drained ground. A good air flow circulation presented around the the peony plant is also essential. These particular environments assist this type of plants to prevent sickness problems. To organize a seeding hole meant for a bare-root peony, dig the ground to the level of 12-18". Use a garden fork to release the sides of the particular planting hole as well. It is usually really important that the "eyes", or growing nodes, located near the bottom of the old stem, end up no greater than Two inch beneath the soil surface.