Peony Lovebirds
Peony Lovebirds is an Early single Pink Peony Herbaceous Hybrid, pink blush large blooms, unique intertwining of carpels, like lovebirds at play, strong stems, average heigh 30 inch / 76 cm, (Introduced by Smetana, A & D Nursery, USA 1994).
Bare root size: 3/5 eye
30"
Quantity per standard box:
Perennial Box Size (standard) = 24" x 16" x 9" or, 60cm x 40cm x 23cm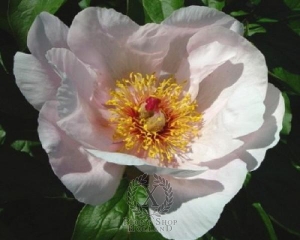 Sold Out! Available in years: 2024
Peony Lovebirds is one of the many single Pink Peonies that we grow at Peony Nursery 'Peony Shop Holland'.
Professor A. P. Saunders Hybrids
Peony Lovebirds has been breed by Professor A.P. Saunders a chemistry Professor at Hamilton College, Clinton, New York during the early part of the 20th century, Professor Saunders is today considered the "Father" of the modern hybrid peony. He carried out extensive, scientifically based breeding programs with both herbaceous and Tree Peonies with the assistance of friends at the New York Botanical Garden. His Tree Peony work centered on the intercrossing of two species, the yellow flowered P. lutea and the orange-red P. delavayi with existing classical Japanese Moutan varieties. The resultant progeny produced a range of flower colors from lemon and golden yellow to ivory and pearl shades frequently blended and suffused with purple and pink, plus a few strawberry-red cultivars. In all cases, the flowers are displayed above attractive cut-leaf foliage. Eventually his daughter, Silvia took over her father's nursery, and after several decades Professor Saunders hybrids are still in great demand by gardeners worldwide.
About peony farm "Peonyshop.com" Peony Shop Holland Lutjebroek
Peony farm Peonyshop.com Peony Shop Holland right now exclusively targets on increasing unique, great best quality peonies. It has not always been this way. This corporation comes with an outstanding back ground getting started in the year 1875 along with Simon Scholten who also has been growing fresh vegetables for her income.
During 2001 this company built their innovative marketing and advertising tactics-label & logo "Peonyshop.com" and after that they started off concentrating on growing exceptional peonies. Throughout 2002 this business opened their own shop on the web", the: peonyshop.com together with Peonies & Buxus. In 2003 Joshua Scholten started off on with breeding peonies. Then in 2004 this institution began to market peonies out of the Netherlands throughout European countries, Usa and even Asian countries.
Currently our own peony nursery is focused on expanding and spreading exclusive, good quality peony roots that happen to be distributed and released around the globe. Furthermore we even reduce peonies primarily supporting the Dutch peony flower market.
The main things we pride:
The excellent quality of our product
Our capability to foreign trade all over the world
Our substantial assortment of pink peonies like Lovebirds
The peony nursery of large full potential pink peonies for cut-flower production.
Growing Lovebirds a pink peony flower
The fall season is usually the ideal moment for growing peony plants. All the peony plants are unbelievably long-lived plants staying around up to fifty up to seventy yrs, so as soon you'll have them placed in the right way, a person definitely will have fun with them for years and years. These plants like a shiny area having a well-drained ground. A good air flow circulation available the plant is important. These special surroundings allow this type of plants to stay away from sickness problems. To organize a planting hole for the purpose of a bare-root peony plant, dig the ground to a depth of 12-18". Use a garden fork to remove the sides of the particular seeding hole as well. It truly is pretty important that the "eye", or growth, nodes, situated near the base of the old stem, end up no more than Two " below the soil surface area.