Peony Leslie Peck
Peony 'Leslie Peck' is an Early Japanese pink Peony Herbaceous Lactiflora, deep pink with pink center petaloid's, etched in peach, reliable, with many side buds, moderate stem strength, blooms are held above the foliage, vigorous, excellent foliage, Average height 36 inch / 91.5 cm, (Niva / Snelson, USA, 1999).
Bare root size: 3/5 eye
36"
| Size | Weight |
| --- | --- |
| 1/2 eye | 50 gram |
Quantity per standard box:
Perennial Box Size (standard) = 24" x 16" x 9" or, 60cm x 40cm x 23cm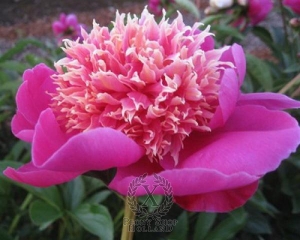 ---
Size (eye)
1+
3+
1/2

€

8.00

€

5.00
---
Please
login
to place orders and see Peony prices for all quantities.
Peony 'Leslie Peck' is one of the many pink peonies that we grow at Peony Nursery 'Peony Shop Holland'.
Regarding peonynursery "Peonyshop.com" Lutjebroek, the Netherlands
Peony Farm Peony Shop Holland now a days exclusively centers at developing exclusive, very high good peonies. It has not always been this situation. This firm carries an unique back ground starting up in 1875 accompanied by Simon Scholten who was basically growing veggies and fruit for a full time income.
During the year 2001 this company generated their unique brand-new marketing and advertising-name & logo "Peonyshop.com" and as a result they started off focusing on growing unique peonies. During 2002 this business opened up their own shop on the web", the: peonyshop with Peonies & Buxus. In the year 2003 Joshua Scholten started with raising peonies. Than in year 2004 this business started to export peonies originating from the Netherlands all around European countries, America and additionally Asian countries.
Right now our peony nursery is focused on increasing and developing unique, high-quality peony roots that are distributed and exported to everywhere around the world. Aside from that this company even cut peonies predominantly helping the Dutch peony flower industry.
The most important things we pride:
The good quality of our products
Our capability to foreign trade international
Our extensive collection peonies like Leslie Peck
The peony crame of substantial full potential seedlings
About growing Leslie Peck peonies
Fall happens to be the perfect period of time if you ponder planting a peony plant. All peony plants happen to be extremely long-term-lived plants functioning for approximately fifty to a maximum of 70 years, so as soon you'll have them planted in the correct way, a person is going to benefit from the peonies for many years. The plants have a preference for a shiny place having a well-drained dirt. A good air flow circulation available around the the peony plant is important and vital. These surroundings help peonies stay away from illness problems. To arrange a sowing hole intended for a bareroot peony plant, dig the ground to a depth around 12-18". Utilize garden tools to remove the sides of the seeding hole at the same time. It's actually especially significant that the particular "eyes", or growing nodes, positioned close to the bottom of the old stem, end up no more than 2 inch under the ground surface.