Peony Laura Dessert
Peony 'Laura Dessert' is an Early Midseason anemone or double White Peony Herbaceous Lactiflora, pink to white, guards pale pink in bud, opening cream or pale lemon fading to white, fragrant, dark green foliage, good grower, average height 36 inch / 91.5 cm, (Dessert, France, 1913).
Bare root size: 3/5 eye
36"
Quantity per standard box:
Perennial Box Size (standard) = 24" x 16" x 9" or, 60cm x 40cm x 23cm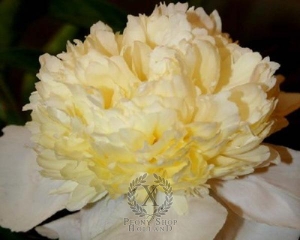 ---
---
Please
login
to place orders and see Peony prices for all quantities.
Peony 'Laura Dessert' is one of the many White Peonies that we grow at Peony Nursery 'Peony Shop Holland'.
Regarding Peony Nursery "Peonyshop.com" Peony Shop Holland
Peony Nursery Peonyshop.com Peony Shop Holland right now solely concentrates on expanding exclusive, good superior quality peonies. This hasn't been always the main scenario. The corporation comes with a wide-ranging background starting in the year 1875 with the help of Simon Scholten who was growing veggies and fruit for a full time income.
During 2001 the corporation put together their innovative marketing and advertising tactics-name & logo "Peonyshop.com" and after that they started centering on growing exceptional peonies. During the year 2002 this corporation opened up their own world wide web peonyshop.com together with Peonies & Buxus. Throughout the year 2003 Joshua Scholten started with raising peonies. After that in 2004 the institution started to foreign trade peonies from the Netherlands throughout Europe, Usa and additionally Asia.
Nowadays our own peony nursery is specialized in growing and multiplying special, premium quality peony roots which can be marketed and exported to globally. Additionally this company also cut peonies mainly assisting the Dutch peony flower sector.
The most important things we pride:
The excellent quality of our own products
The capability to foreign trade world-wide
Our own substantial range white peonies like Laura Dessert
The Peony Nursery of substantial potential white peonies for cut-flower production
About Laura Dessert a white peony flower
The fall is really a suitable time for planting peonies. All the peony plants are amazingly long-lived plants long lasting nearly 50 to a maximum of 70 years, so as soon an individual have the particular peonies planted correctly, you is going to benefit from the peonies for years. The plants prefer the sunlit place with a well-drained ground. A good quality air movement available the peonies is also very important. These environs help these plants to stay away from disease problems. To arrange a seeding hole for the purpose of a bare-root peony plant, dig the dirt to the level around 12-18inch. Utilize a garden fork to loosen the edges of the particular growing hole as well. It is very really important that the particular "eye", or growing nodes, positioned close to the bottom of the old stem, end up no more than Two inches below the ground area.
http://youtu.be/plb6mm7C22Y