Peony Lady Alexandra Duff
Peony Lady Alexandra Duff is a Late Midseason semi-double to loose double Pink Peony Herbaceous Lactiflora, light pink to blush, long petals make sumptuous flowers, luxurious and graceful, fragrant, makes a stout bush, average height 36 inch / 91.5 cm, a most successful parent for doubles, seed parent of Summer Glow, "Lady Alexandra Duff was the daughter of Princess Louise of Wales, and the Duke of Fife, whose family name was Duff. She is the granddaughter of Edward VII of England, and was named "Alexandra" for her beautiful grandmother, Queen Alexandra. She was born in 1891, and was a child of eleven years when Kelway named his famous peony...." (Kelway 1902).
Bare root size: 3/5 eye
36"
Quantity per standard box:
Perennial Box Size (standard) = 24" x 16" x 9" or, 60cm x 40cm x 23cm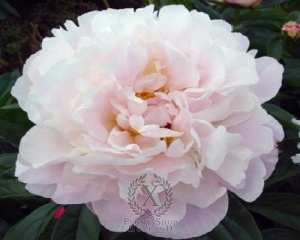 Sold Out! Available in years: 2024, 2026
Peony Lady Alexandra Duff is one of the many Pink Peonies that we grow at Peony Nursery 'Peony Shop Holland'.
About peony nursery "Peonyshop.com" Peony Shop Holland
Peony Growers Peonyshop.com Peony Shop Holland in this modern day primarily centers at increasing unique, good best quality peonies. It hasn't always been this situation. This firm comes with an unique back ground starting in the year 1875 with Simon Scholten who was basically growing fresh fruit for an income.
During the year 2001 this organization constructed their innovative advertising and marketing-name & brand "Peonyshop.com" and as a result they started concentrating on expanding exclusive peonies. Within the year 2002 the corporation opened up their shop on the internet", the: peonyshop.com with Peonies & Buxus. In the year 2003 Joshua Scholten started out with raising peonies. Than in year 2004 the particular corporation started to sell peonies from the Netherlands all-around European countries, America plus Asian countries.
Nowadays our peony nursery is focused on increasing and increasing the number of unique, high-quality peony roots that happen to be distributed and released throughout the world. In addition the particular firm additionally reduce peonies predominantly serving the Dutch peony flower market place.
The particular things we pride:
The good quality of our product
Our capacity to export world-wide
Our new wide-ranging assortment of pink peonies like Lady Alexandra Duff
The peony Nursery of high potential pink Peonies for cut-flower production.
Growing Lady Alexander Duff a double pink peony flower
The fall season has been the right moment regarding planting a peony. All the peonies tend to be amazingly long-term-lived plants lasting up to fifty up to 70 yrs, so once you'll get the peonies selected and planted in the correct manner, an individual is going to have fun with the plants for years. The plants like the sun-drenched area with a well-drained dirt. A good air circulation available the peonies can also be significant. These kind of circumstances support peonies stay away from sickness issues. To make the sowing hole designed for a bare-root peony plant, dig the dirt to some depth of 12-18inches. Make use of garden tools to release the edges of the particular seeding hole at the same time. It is actually especially essential that the "eyes, ", or growth, nodes, located near the base of the old stem, end up no greater than Two inch below the dirt area.