Peony Kathy's Touch
Peony Kathy's Touch is an Early to Early Midseason semi-double to full double Pink Peony Herbaceous Hybrid, medium to a lighter pink, classic two stage (flower-in-flower) form, thin ring of pollen-bearing stamens at inner edge of the outer part and again at the center, carpels and stigmas are generally abortive, sometimes fully formed, In Hollingsworth's 2008 flowering season, 'Kathy's Touch' flowered with 'Pink Vanguard' and ahead of nearby 'Red Charm' plants by five days, the vigorous plants are sturdy, especially prolific of increase and foliage quality persisted well under open field conditions, average height 30 inch / 76 cm, very rare, (Hollingsworth, 2009, USA).
Bare root size: 3/5 eye
30"
| Size | Weight |
| --- | --- |
| 3/5 eye | 250 gram |
Quantity per standard box:
Perennial Box Size (standard) = 24" x 16" x 9" or, 60cm x 40cm x 23cm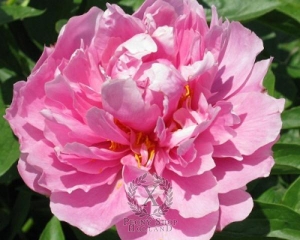 Sold Out! Available in years: 2025, 2027
Peony Kathy's Touch is one of the many early Pink Peonies that we grow at Peony Nursery 'Peony Shop Holland'.
Regarding Peony Nursery "Peonyshop.com" Peony Shop Holland
Peony Nursery Peony Shop Holland peonyshop.com at the moment exclusively centers on getting exceptional, high prime quality peonies. This has not been always the main scenario. The corporation owns an exceptional background starting off in the year 1875 accompanied by Simon Scholten that also was growing fresh vegetables for an income.
During 2001 this specific company produced their new-found marketing and advertising-title & logo "Peonyshop.com" and after that they started off concentrating on improving exclusive peonies. In the year 2002 this organization opened their very own online peonyshop.com together with Peonies & Buxus. In the year 2003 Joshua Scholten began with multiplying peonies. Then in year 2004 this organization started to export peonies from the Netherlands all over European countries, America and additionally Asia.
Nowadays our peony nursery is specialized in expanding and developing unique, top quality peony roots that happen to be sold and released anywhere in the world. Additionally the company even reduce peonies mainly serving the Dutch peony flower marketplace.
The things we pride:
The excellent quality of our own products
The capability to foreign trade around the world
Our new extensive range of pink peonies like Kathy s Touch
The Peony Nursery of large full potential pink peonies for cut-flower production.
Growing Kathy s Touch a pink peony flower
The fall happens to be the perfect time for planting peony plants. A lot of peonies have proven to be exceptionally long-lived plants sticking around close to 50 to a maximum of 70 yrs, so as soon a person get the peonies planted in a correct manner, a person will certainly have fun with them for years. Peonies opt for the bright place having a well-drained ground. A good air circulation available the plant can also be crucial. These types of surroundings allow this type of plants to prevent disease problems. To arrange the planting hole designed for a bareroot peony plant, dig the ground to some level of 12-18". Make use of a garden fork to remove the sides of the growing hole as well. It's always very significant that the "eyes", or growth, nodes, situated near the bottom of the old stem, end up no more than Two inch under the soil surface area.