Peony Junior Miss
Peony Junior Miss is a Very Late double Pink Peony herbaceous Lactiflora, very tight full double pink bud, its not always open well, it must have cool weather or ample moisture to open in perfection, strong stems, good foliage, average height 40 inch / 101.6 cm, first bloomed about 1972, received from Roy in 1978, one of Bill's favorite Peonies, (Roy Pehrson; registered by Bill Seidl, USA, 1989).
Bare root size: 3/5 eye
40"
| Size | Weight |
| --- | --- |
| 1/2 eye | 50 gram |
| 3/5 eye | 250 gram |
Quantity per standard box:
Perennial Box Size (standard) = 24" x 16" x 9" or, 60cm x 40cm x 23cm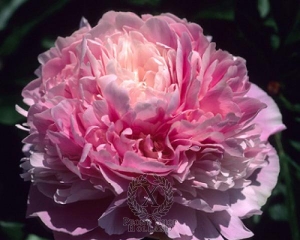 Sold Out! Available in years: 2024, 2025
Peony Junior Miss is one of the many very late Pink Peonies that we grow at Peony Nursery 'Peony Shop Holland'.
Regarding Peony Nursery "Peonyshop.com" Peony Shop Holland
Peony Nursery Peonyshop.com Peony Shop Holland in these days specifically focuses on developing unique, extraordinary high-quality peonies. This specific emphasis hasn't been always the main case. This company comes with a successful background starting up in the year 1875 with the help of Simon Scholten that also was basically growing veggies and fruit for her full time income.
During 2001 the particular business enterprise designed their distinctive modern marketing-name & brand "Peonyshop.com" and as a result they started centering on expanding unique peonies. Throughout 2002 typically the firm launched their very own world wide web peonyshop.com with Peonies & Buxus. Within 2003 Joshua Scholten began with multiplying peonies. Then in 2004 the particular firm began to export peonies out of the Netherlands throughout European countries, America and also Asia.
Nowadays our peony nursery is specialized in maximizing and multiplying exclusive, premium quality peony roots which can be sold and exported to around the world. Additionally we additionally reduce peonies primarily assisting the Dutch peony flower sector.
The particular things we pride:
The premium quality of our product
The capacity to foreign trade around the globe
Our extensive collection of pink peonies like Junior Miss
The Peony Nursery of large full potential pink Peonies for cut-flower production
Growing Junior Miss a pink peony flower
The fall season has been the correct period of time if you ponder seeding peonies. Nearly all peonies tend to be exceptionally long-lived plants being alive up to fifty up to seventy yrs, so as soon as you have the peonies placed in a correct manner, a person will certainly benefit from them for years. These plants have a preference for a sun-drenched position having a well-drained ground. A high quality air flow circulation available the the peony plant is also significant. These kinds of circumstances allow peonies avoid illness problems. To prepare the seeding hole for the purpose of a bare-root peony plant, dig the ground to a depth of 12-18". Use garden tools to remove the sides of the particular planting hole at the same time. It truly is really crucial that the particular "eyes", or growth, nodes, situated close to the base of the old stem, end up no more than 2 inch under the soil area.