Peony Joyce Ellen
Peony Joyce Ellen is an Early single to semi-double red Peony Herbaceous Hybrid, The single or semi-double flowers have three or more rows of guard petals of a brilliant, showy, deep cherry or light red, which surround a center of stamens, whose filaments are the same color as the guard petals with yellow anthers, having pollen, that may or may not, be viable, it is not known which. The carpels are light green and have bright red stigmas. The foliage is good, rather small. The stems are strong and tall. Average height 28 inches / 70 cm, Parentage: Rose Shaylor x Sunbeam (lobata)Named for Mrs. A. E. Steinkirchner, a daughter of the originator. Seedling #44-3. (Moots, 1960, USA, KS).
Bare root size: 3/5 eye
28"
| Size | Weight |
| --- | --- |
| 2/3 eye | 150 gram |
Quantity per standard box:
Perennial Box Size (standard) = 24" x 16" x 9" or, 60cm x 40cm x 23cm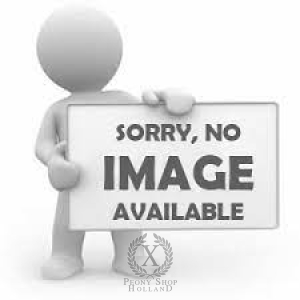 Sold Out! Available in years: 2025
Peony Joyce Ellen is one of the many single to semi-double red Peonies that we grow at Peony Shop Holland
About peony nursery "Peonyshop.com" Peony Shop Holland, Lutjebroek, the Netherlands
Peony Growers Peony Shop Holland peonyshop.com at this time exclusively centers at exclusive, outstanding superior quality peonies. This wasn't always the case. This corporation comes with an unique history with the starting point in the year 1875 together with Simon Scholten who also had been growing veggies for her income.
During 2001 this business manufactured their distinctive innovative advertising-name & logo "Peonyshop.com" and they began centering on growing exceptional peonies. During the year 2002 the particular firm launched their own on-line peonyshop.com with Peonies & Buxus. Throughout 2003 Joshua Scholten started out with raising peonies. Than in year 2004 this institution started to export peonies from the Netherlands all-around European countries, Usa and also Asian countries.
Currently our peony nursery is specialized in expanding and increasing the number of exceptional, good quality peony roots that are offered for sale and released throughout the world. In addition the particular firm also reduce peonies largely helping the Dutch peony flower sector.
The most important things we pride:
The top quality of our own product
Our capacity to foreign trade world-wide
The best substantial collection of red peonies like Joyce Ellen
Our Peony Nursery of large full potential red Peonies for cut-flower production.
Growing Joyce Ellen a single to semi-double red Peony flower
The fall season is usually the perfect moment if you ponder growing a peony plant. These peony plants have proven to be extremely long-term-lived plants sustaining nearly 50 to a maximum of seventy yrs, so once an individual have the peonies planted rightly, a person will definitely have fun with the peonies for a long time. Peonies have a preference for a sunny spot having a well-drained ground. A good quality air circulation available the peonies can also be important and vital. These kinds of milieu assist this type of plants to avoid disease issues. To prepare the sowing hole intended for a bare-root peony, dig the soil into a depth around 12-18". Use garden tools to release the sides of the seeding hole as well. It truly is especially important and vital that the "eye", or growth nodes, located nearby the base of the old stem, end up no greater than 2 inch below the soil surface area.